New York — As the city agency overseeing the removal of the World Trade Center rubble was wrapping up its work in 2002, several officials handling the painstaking recovery of human remains warned that things were moving too fast.
They believed that more pieces of the 2,749 dead could be found, and that the city shouldn't be rushing such an important task. But they were overruled, two of those officials told The Associated Press this week.
Over the past few days, dozens of bones have been discovered in underground passages at ground zero, more than five years after the tragedy.
"I knew that this was going to happen - they really just wanted us out of there," said retired Lt. John McArdle, the Police Department's ground zero commander. "There was not a good exit strategy for some of these places, and if there was, it was poorly done."
A utility crew stumbled upon body parts last week in an abandoned manhole along the edge of the site, and forensic experts have since dug down and found more than 100 bones and fragments from skulls, ribs, arms, legs, feet and hands.
The discoveries have angered and saddened relatives of the Sept. 11 victims. Of the 2,749 people who were killed that day, the remains of some 1,150 have not been found. That means that families of 40 percent of the victims have nothing - not a sliver of a bone - left of their loved ones.
The notion that rescue workers were rebuffed by a city eager to finish the job could help shed light on why the remains are being discovered only now. The area where bones are being found is one where officials had raised objections.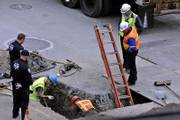 The officials said they repeatedly aired their concerns to the agency in charge, the Department of Design and Construction, which was later praised for its speedy, under-budget cleanup of 1.5 million tons of trade center debris.
"The desire was driven by one thing, and that was, 'Get it done,"' said another official who protested, speaking to the AP on condition of anonymity because he is not authorized to discuss the work publicly. "Many a time the issue was raised about how fast it was going and things were being missed."
The project finished months ahead of city officials' yearlong prediction and cost about $750 million - just a fraction of the initial multibillion-dollar estimate. But the design department was sometimes at odds with the rescue workers, who frequently needed to shut down or pause the operation as they recovered bodies.
"It went from a rescue to a recovery to a construction project," McArdle said. "There came a point in time when they said, 'We gotta try to wrap this up,' and they tried to expedite it as much as possible, and they jumped the gun, and now you have all of these families hurt and they're finding all these body parts."
Late Monday afternoon, the renewed search for human remains was suspended amid concerns about possible toxins, officials said. After federal officials raised safety concerns, the city decided to put the work on hold, pending overnight tests.
The work could resume as soon as today, officials said.
Copyright 2018 The Associated Press. All rights reserved. This material may not be published, broadcast, rewritten or redistributed. We strive to uphold our values for every story published.