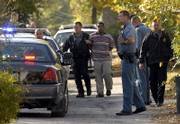 Lawrence police arrested three men this morning following a short car chase and neighborhood search just east of downtown.
About 10:30 a.m., an officer was sent to investigate an automobile burglary in progress in the 700 block of East Ninth Street, Sgt. Dan Ward said. When the officer arrived he saw three male suspects who attempted to flee in a car. A short car chase ensued, ending in the 1000 block of New Jersey Street where the suspects bailed out and fled on foot.
Other officers responded to the area and a search began. Two men, both from Leavenworth, were found and taken into a custody, Ward said.
Shortly before noon a third suspect who earlier eluded police also was taken into custody. He was described as a 25-year-old, man of light complexion wearing a black jacket. He had short hair and a mustache. He also was from Leavenworth, Ward said.
The car the suspects fled in turned out to be a stolen, white Chevrolet Cavalier, Ward said. It was not the same vehicle the three were attempting to break into, he said.
Copyright 2018 The Lawrence Journal-World. All rights reserved. This material may not be published, broadcast, rewritten or redistributed. We strive to uphold our values for every story published.