Irving, Tex. — The New York Giants had their way with Drew Bledsoe so much that he got benched at halftime. Tony Romo's promotion thrilled Dallas Cowboys fans - until he threw an interception on his first snap.
That's how it went Monday night: The Giants made all the big plays, the Cowboys made the big mistakes.
"That was really a poor performance," coach Bill Parcells said. "A recipe for disaster. It was a real bad performance. And there's really no excuse for it."
Eli Manning threw a 50-yard touchdown pass to Plaxico Burress on the fifth play, LaVar Arrington sacked Bledsoe for a safety soon after, and the Giants fended off several potential momentum-changers, beating the Cowboys, 36-22, to stake a big head start in defense of their NFC East title.
A week after sacking Michael Vick seven times, New York got four against Bledsoe - two by Michael Strahan, tying Lawrence Taylor's club record - and two against the more-mobile Romo.
More important for the Giants (4-2) were their four interceptions.
Sam Madison picked off Bledsoe on a potential go-ahead pass into the end zone, costing the statuesque quarterback his job, at least for the rest of the night.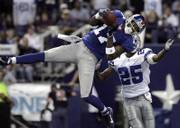 But Parcells said it wasn't just the one play that drove his decision to give Bledsoe the hook.
"Too many mistakes," he said. "Too much improvisation."
Romo was intercepted three times, with Kevin Dockery taking the last one 96 yards with 2:33 left for the game-sealing touchdown, leaving Parcells staring down with his arms folded, out of answers for Dallas (3-3).
While Romo sparked the offense at times, his miscues were too much to overcome.
He got little comfort from Bledsoe, who stood alone on the sideline wearing a visor pulled down over his eyes, mostly keeping his fingers curled inside his collar.
Copyright 2018 The Associated Press. All rights reserved. This material may not be published, broadcast, rewritten or redistributed. We strive to uphold our values for every story published.