A Eudora military consultant advises Americans not to panic about the recent upsurge in violence in Baghdad.
Mark Johnson, a retired Army lieutenant colonel and former Green Beret, said it was not cause for alarm, nor was it a sign that the fight for control of Iraq is being lost.
"Wars change. Situations change," Johnson said. "What was happening three or four years ago is totally different from what's happening now."
American troops were beefed up in Baghdad and other trouble spots several weeks ago. Still, attacks on U.S. troops have increased, and more than 70 Americans have been killed during October. Troops have cleared neighborhoods and later had to return to clear them again, Maj. Gen. William B. Caldwell said last week in discussing what he called "disheartening" reports.
Johnson recently returned from the Middle East where he trained special operations and conventional military forces on the latest methods for countering insurgencies, working with Islamic religious leaders and local populations, and defeating improvised explosive devices. He was based in Kuwait.
Military commanders in Iraq and Afghanistan should express their opinions if they think they have new ideas for how to fight in those countries and in the global war on terrorism, Johnson said.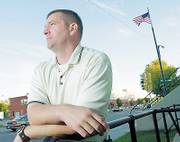 "I think they should speak out and say 'Hey, we need to do this better,'" said Johnson, who earned a Bronze Star during the 1991 war with Iraq. "They should sacrifice their careers, if you will, and make it known that 'this is the way we should do it.'"
Johnson doesn't think much of recently retired generals and other former military commanders who waited until they were no longer on active duty to criticize the Bush administration for the conduct of the wars.
"That, to me, is absolute bunk," he said. "I'm personally appalled by it."
The keys to stabilizing Iraq are building up the Iraqi army and police and winning the respect of the Iraqi people and establishing rapport, Johnson said. American soldiers should emphasize to Iraqis that they are military volunteers and that they have given up their families to spend a year in Iraq to help secure the country. That will lead to more information being developed about insurgents and where to find hidden bombs.
"We are not Islamics, so we are not going to win their hearts and minds, but we can earn their respect and trust," said Johnson, who has written books on leadership. He also makes motivational speaking appearances through his business, Camouflage Communications Inc., when not working for the military.
Despite recent violence, Johnson said, most of Iraq is in "pretty good shape." But he also thinks American forces will be in Iraq in large numbers for at least two to four more years. There are about 140,000 troops in Iraq. He estimated a long-term troop level of about 20,000.
"Today, we're still in Europe, we're still in Korea," he said, naming the locations where Americans have fought past wars.
Johnson also thinks the U.S. is winning the war on terror. He cited the fact there have been no terrorism incidents in this country since 9/11.
"It's not because they are not trying," he said. "We're keeping them busy over there. We're taking away their Fort Braggs and Fort Rileys."
Copyright 2018 The Lawrence Journal-World. All rights reserved. This material may not be published, broadcast, rewritten or redistributed. We strive to uphold our values for every story published.