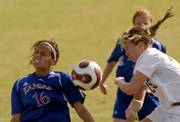 Kansas University's soccer team is loaded with experienced seniors, but the Jayhawks' recent surge has been keyed by underclassmen.
The latest showing came from sophomores Jessica Bush and Julie Hanley in a 1-0 Big 12 Conference victory Friday over Baylor.
"When you need the result and need goals and need performances to be good, good players step up and rise to the occasion," KU coach Mark Francis said. "I think Jules has obviously done that for quite a while. Bushy has been very, very consistent over the last five, six weeks."
Hanley handled the Bears by needing only to make three saves to pick up her third consecutive shutout - her seventh of the season - and has strung together just over 256 minutes of scoreless play in goal.
"Jules has just been real consistent," Francis said. "And in a goalkeeper, that's what you're looking for. You want your keeper to be able to make saves they're supposed to save and then some others that maybe not everybody gets to, and they get a couple of those, too, and help you win the game. And that's what Jules has been doing."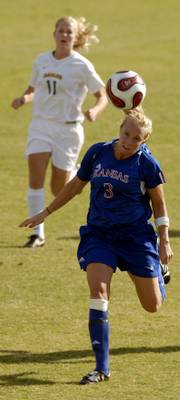 Hanley was quick to give credit to her teammates, who only allowed three shots on goal.
"A lot of it has to do with the 10 people ahead of me - they make my job a lot easier," Hanley said. "They really do all the work, and I just do my job and stop the ball so it's just a lot easier with them in front of me."
Bush's goal in the 10th minute came when she followed up a rebound off a Holly Gault shot on goal.
The goal extended Bush's scoring streak to three games, with a KU record of three straight game-winning goals. She has four game-winners on the season.
"Bush is a bit of a spark plug - when you need something to happen, she's kind of always buzzing around and making things happen, and that's a big part of her game," Francis said. "Today, she was at the right place at the right time."
While the Jayhawks (10-6 overall, 5-3 Big 12) are situated near the top of the league standings - currently in fourth, behind Oklahoma State, Texas A&M; and Texas - and are on a three-game winning streak, Bush said she believed they still had a lot to prove to their opponents and the conference.
"I do feel like we're coming together at the end of the year," Bush said. "Coming into conference, it can be overwhelming for a younger team. But I think we've come together. We've definitely seen glimpses of our potential. I don't even think we've hit it yet, but whenever we do, I think we're going to surprise a lot of people."
Copyright 2018 The Lawrence Journal-World. All rights reserved. This material may not be published, broadcast, rewritten or redistributed. We strive to uphold our values for every story published.