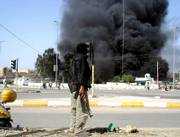 Baghdad, Iraq — Black-uniformed, hooded gunmen loyal to an anti-American Shiite cleric briefly seized the major southern city of Amarah on Friday in an audacious drive against local security forces, largely controlled by Iraq's other main Shiite militia.
Twenty-five gunmen and police died in gunbattles before the Iraqi army moved in to retake the city of 750,000 people at the head of Iraq's famous marshlands where the Tigris and Euphrates rivers draw close together. Amarah is 30 miles from the border with Iran, where the Shiite theocracy is said to be funding, arming and training both rival militias.
The Amarah showdown between the two virtual private armies highlighted the potential for an all-out conflict between them and their political sponsors, both with large blocs in parliament and important to the survival of Prime Minister Nouri al-Maliki's shaky four-month-old government.
It also underlined the deep underlying rift that exists between the firebrand cleric Muqtada al-Sadr's faction, whose forces took Amarah on Friday, and that of the more traditional but powerful Supreme Council for the Islamic Revolution in Iraq, or SCIRI, led by key power broker Abdul-Aziz al-Hakim, who spent decades in Iranian exile during Saddam Hussein's rule.
The U.S. exit strategy depends on returning military and political control to the Iraqi government, but outbreaks of civil conflict raise doubts about how long that will take and add urgency to a policy review under way among Bush administration political and military officials.
The clashes marred the Muslim day of prayer for the second Friday in a row in cities where American and British forces had only recently ceded military control to Iraqi security forces and the army. More than 100 people were slain in Balad this past week, most of them by Shiite deaths squads drawn largely from al-Sadr's Mahdi Army.
The Mahdi Army held Amarah for several hours in an embarrassingly strong showing against the local police and security forces, controlled by the Badr Brigade militia loyal to SCIRI, the country's dominant political force with deep and historic links to Iran.
Copyright 2018 The Associated Press. All rights reserved. This material may not be published, broadcast, rewritten or redistributed. We strive to uphold our values for every story published.