DeSoto — Travis Clarke squirted through a gap to turn a fourth-and-seven hole into a 17-yard touchdown run to put Eudora High up early, and the undefeated Cardinals added three touchdowns in the second half to hold off De Soto, 26-15, in district football on Friday.
"We were very fortunate to win," Eudora coach Gregg Webb said. "De Soto has shown its a good football team, so I thought they would give us problems."
De Soto lost its fourth game of the season, but in all but one the Wildcats held a lead at halftime.
That was the case again Friday.
The Wildcats marched 11 plays and 73 yards in the first quarter, and De Soto quarterback Jake Morse connected with Erik Hill for a 20-yard touchdown with five minutes, 34 seconds remaining to give the Cats an early 7-0 lead.
De Soto (4-4) almost made that lead even larger at the end of the second quarter. Clarke scored his touchdown to pull Eudora (8-0) to 7-6, but De Soto's J.T. Thompson forced a fumble with 28 seconds remaining in the half. Five plays and 21 seconds later, the 'Cats were threatening to put Eudora down two scores.
The Cardinal defense stiffened, however, holding the Cats at the one-yard line on two up-the-gut runs as time expired.
"That was probably the play of the game right there," De Soto coach Brad Scott said.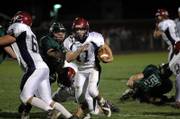 "We were very fortunate to get out of the half down only 7-6," Webb added. "That stop was huge. That gave us momentum into the second half."
The change in momentum didn't result in an immediate change in the score, however.
A sharp wind and a strong Cardinal defense kept the game in De Soto territory, and the 'Cats stopped a Eudora drive at the five. But Eudora quarterback Kent Swanson connected with Matthew Abel for a 16-yard go-ahead touchdown with 1:01 remaining in the third.
Swanson found Abel again midway through the fourth, this time from 12 yards, and Eudora took an insurmountable 20-7 lead.
"Their kids aren't very big, but, boy, they play hard," Webb said. "Now we have a chance to outdo our best season ever. We were 8-0 last year, and we're hoping to build on that now."
Eudora returns home Thursday to face Baldwin for the final game of district play. De Soto will play host to Spring Hill to wrap up its regular season.
Eudora 26, De Soto 15
Eudora 0 6 6 14 - 26
De Soto 7 0 0 8 - 15
De Soto - Erik Hill, 20-yard pass from Jake Morse (J.T. Thompson kick)
Eudora - Travis Clarke, 17-yard run (run failed)
Eudora - Matthew Abel 16-yard pass from Kent Swanson
Eudora - Abel 12 yard pass from Swanson (Mike Ortega pass from Swanson)
Eudora - Austin Hoover 35-yard run (run failed)
De Soto - Austin De Graeve 5-yard pass from Morse (Hill pass from Morse)
Copyright 2018 The Lawrence Journal-World. All rights reserved. This material may not be published, broadcast, rewritten or redistributed. We strive to uphold our values for every story published.