Detroit — Ivan Rodriguez gave Placido Polanco a playful slap upside the head, and they both cackled. Pumped and raring to go, they grabbed some bats, bolted the clubhouse and got ready to hit.
After a week of mowing the lawn, changing the oil and taking out the trash, the Detroit Tigers were definitely eager to start this World Series.
So were the St. Louis Cardinals - sort of.
Coming off a draining Game 7 victory at New York in the NL championship series, they pulled into their suburban Detroit hotel at 5 a.m. Friday. By late afternoon, they straggled onto the field at Comerica Park for a workout.
"Maybe that champagne is still stinging their eyes," Tigers reliever Jason Grilli said.
And so this Series between Midwestern underdogs who limped into the playoffs starts tonight with a great debate: Is it better to go into Game 1 fully rested, or riding an emotional high?
"It doesn't matter how you get here," Cardinals slugger Albert Pujols said.
Maybe, but the stats show otherwise.
October fact: The last six teams that began the World Series with five or more days of rest all went on to win. Further, only twice in history have Series teams with such a long break not won - and both were led by Cardinals manager Tony La Russa.
"I think the game is so mental," La Russa said. "If you sit around and you're mentally strong, you're ready."
An unlikely Series gets off to a unique start when, for the first time, a pair of rookie pitchers match up in Game 1.
Justin Verlander brings his 100 mph heat for the Tigers; Anthony Reyes starts for the worn-down Cardinals because no one else is fresh.
Some of these Tigers were a bit tired, too, after staying up until nearly midnight to see St. Louis beat the Mets, 3-1, Thursday night for the NL pennant.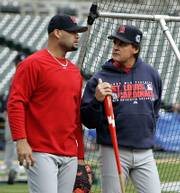 "It was one of the few times in my life where I watched another game with two other teams playing that my heart was racing, and that's not really normal for me," Detroit manager Jim Leyland said. "I thought that was one of the best baseball games I've seen in a long, long time."
Leyland told La Russa so, calling his good friend early Friday to congratulate him. They regularly phone each other, but intend to slack off for the next 10 days or so.
Besides, there's work to do. And for the Tigers, that's a welcome change after spending a week waiting to play.
Reliever Jamie Walker caught up on household chores, and pitcher Nate Robertson did some yardwork. Outfielders Curtis Granderson and Craig Monroe booked flights and hotels for friends and family members.
"I consider myself a travel agent," Granderson said.
The Tigers hope to keep flying along in this postseason. After losing Game 1 to New York, they've won seven straight playoff games in making quick work of the Yankees and Oakland.
Three years removed from being the worst team in the majors, the Tigers want to complete the turnaround with the first Series title since 1984.
At 83-78, the Cardinals have the second-worst record of any World Series team, trailing only the 82-79 mark of the 1973 Mets.
Understandably, a lot of baseball experts expected to see another pairing, and perhaps that's why television ratings have been down.
Then again, that's what makes this time of year so interesting.
"It's been a little bit weird," Leyland said. "It's been crazy. It's been tremendous for baseball.
"I was reading a lot about that in the paper today, the average attendance and all the teams, it's just been great," he said. "And, hopefully, this Series will not be a letdown for anybody."
The Cardinals and Tigers have met twice before in the championship. In 1934, Dizzy Dean and the Gas House Gang beat Detroit in seven games; in 1968, Mickey Lolich, Al Kaline and the Tigers beat Bob Gibson and the Cardinals in seven.
On Friday, Kaline was standing in the clubhouse as the Tigers prepared to practice. Now a team official, the Hall of Fame outfielder scanned the locker room - only two of the players, Rodriguez and pitcher Kenny Rogers, have ever been in the World Series.
"It's a special time for all of them," he said.
Copyright 2018 The Associated Press. All rights reserved. This material may not be published, broadcast, rewritten or redistributed. We strive to uphold our values for every story published.