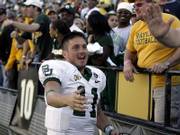 Waco, Tex. — Baylor football coach Guy Morriss this summer compared his new offense to "falling off a log" in terms of difficulty.
Still, remodeling the Bears' attack to feature a prolific passing game can't come without a few bumps in the transition. And while Baylor's statistics are big, so are the giveaways.
"If you touch the football, you should catch it. If you catch it, hold onto it," Morriss deadpanned. "Maybe that's unrealistic. I'm not sure."
Perhaps the biggest thing negating Baylor's giveaways is its takeaways. The Bears lead the conference in both categories heading into today's 2 p.m. game against Kansas University.
While the 20 takeaways (seven fumble recoveries, 13 interceptions) are nice, just how big are they when the same team has lost 11 fumbles and thrown eight picks of its own, for a plus-1 turnover margin?
"The self-destruct factor is still there, and we have to get that fixed," Morriss said. "We are improving and getting better. Production is moving in the right direction. But again, we have to be more consistent with our execution throughout the whole ballgame."
Baylor's style of offense is not unlike Texas Tech's, now nationally known for its success throwing the football. Four wide-receiver positions are listed on Baylor's depth chart instead of the usual two or three, and 16 different Bears have caught a pass this season.
Most have come from the arm of quarterback Shawn Bell, a senior who has completed 63 percent of his passes for 1,928 yards and 13 touchdowns. But for a pass-first offense, the numbers haven't matched those of Texas Tech quarterbacks - Bell didn't have a 300-yard passing game until he threw for 303 last week against Texas.
Add to it Bell's eight interceptions in seven games, and there's still a lot left to be desired in the minds of Baylor players.
"Some things are clicking, but we still need to eliminate the mistakes," Bell said. "We need to be more consistent on every drive."
Perhaps receiver Trent Shelton put it better. While he - along with Dominique Zeigler - is one of Baylor's top receiving options, Shelton finally has found out that Baylor's new offense isn't quite as easy as falling off a log.
At least not right away.
"As a player, you want to come in, and in the first game throw for 300 yards and expect all these huge numbers," said Shelton, who has 40 catches for 600 yards this season. "We just realized that we had to take it slow. But I think that now is the most important time of the year for the offense. We have five more games to get three wins, so we really need to get clicking."
Copyright 2018 The Lawrence Journal-World. All rights reserved. This material may not be published, broadcast, rewritten or redistributed. We strive to uphold our values for every story published.