Photo Gallery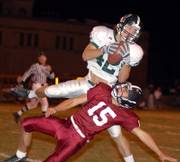 Free State vs LHS football
When Lawrence High football coach Dirk Wedd gathered his team at halftime, he had reason to be encouraged. Sure, his Lions trailed by 13, but they had controlled the clock, contained Firebirds running back Brian Murphy and forced three Free State turnovers.
"We held our ground in the first half," LHS running back Tony Williams said. "We started losing momentum, and that's when they kicked us in the mouth."
The Lions absorbed those body blows in the third quarter when everything seemed to unravel in an eventual 49-15 FSHS victory.
LHS committed two turnovers, and the explosive Firebirds scored 21 unanswered points to give them a resounding 43-9 lead.
In the first half, LHS employed the tandem of Williams and sophomore running back Clifton Sims to execute the ball-control game plan. And LHS relied on Free State to make its own mistakes, including an interception, a safety caused by an errant snap and a fumbled center-quarterback exchange.
Free State coach Bob Lisher told his team to improve its focus. Conversely, Wedd adopted a positive tone at halftime.
"We were going to get the football," Wedd said. "We were going to score, and it was going to be a one-touchdown game. That plays right into us."
The Lions did receive the ball first and churned out three first downs, but then Free State stopped Sims on a fourth-and-one near midfield. Once it regained possession, Free State needed only seven plays on the drive, which culminated in Ryan Murphy's two-yard score with 5:28 left in the quarter.
Trailing 29-9, Williams fumbled the ball on the second play of the ensuing drive, and Ryan Murphy recovered.
"It was a busted play," Williams said. "I didn't see him coming."
Four plays later, senior Dale Coons ran in the end zone from five yards out, giving Free State a 36-9 lead with 2:46 left in the third.
On the very next possession, LHS quarterback Chance Riley faced heavy pressure. Instead of taking a sack, he forced a pass, which senior linebacker Andy Petz returned 19 yards for the touchdown.
"You just can't turn the ball over against these guys," Wedd said. "It's as simple as that."
In less than six minutes, a winnable game had become insurmountable for a Lions team, which relies on a run-oriented attack that makes large deficits difficult to overcome.
"Everything started to snowball," Free State running back Brian Murphy said. "That's just how our team works. We just start to get points real quick and get up on teams and just kill the will of them."
There was, however, no quit in the Lions. Wedd lauded his team's effort throughout and emphasized that LHS came out energized in the second half.
But that did not translate to second-half results.
"We've got to play a whole game. We can't just play one half against a great football team," Williams said. "That's what happened. We didn't play 48 minutes."
Copyright 2018 The Lawrence Journal-World. All rights reserved. This material may not be published, broadcast, rewritten or redistributed. We strive to uphold our values for every story published.