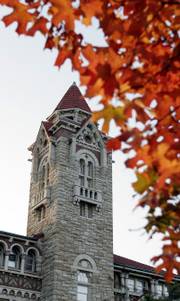 The dry summer and hot days last week have tree experts guessing as to when and how much color will show this fall.
"I still think it's going to be quite brilliant in general. The colors will maybe not be the reddest, but I think there will be a nice diversity of colors out there like there is already," said Craig Martin, Kansas University professor and chairman of the ecology and evolutionary biology department.
"It could go either way. It could be sooner, and in some instances it may be prolonged because the trees don't have enough moisture to do their thing," said Bruce Chladny, horticultural agent at the Douglas County extension office.
Cooler temperatures and shorter days bring on hormonal changes for trees as they stop producing chlorophyll. The process decreases the green pigment in leaves and causes other colors, such as red or yellow, to become prominent.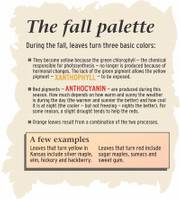 The process allows trees to return nutrients back into the plant for the winter, Martin said.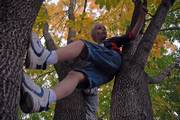 In some areas around Lawrence and the county, colors are already beginning to show. But the predicted peak for fall leaf colors is at least one, two or three weeks away, Martin said.
Baldwin's traditional Maple Leaf Festival will be during the month's third weekend on Oct. 20-22.
When the leaves do fall onto your grass, it's best to either rake them up for compost, bag them in the compost-friendly paper sacks or trash cans for the city's Monday pickup or run over them with the lawnmower, which returns the leaves and their nutrients to the soil, Chladny said.
If fallen leaves are left on the grass too long, they can smother grass and also become a breeding ground for mold and mildew.
Even if the hot and dry weather does affect the colors, it hasn't dampened the spirits of some tree lovers.
"I'm sure it will be gorgeous. Even in the off-years around here, the maples turn a really neat orange instead of a bright red," Martin said.
A few nice places to see fall colors
¢ Along Kentucky Street from 19th Street to the downtown area. ¢ Along the north side of Clinton Parkway between Iowa Street and Kasold Drive. ¢ The 2100 block of New Hampshire Street. ¢ Along Kansas Highway 10 east of Lawrence. ¢ Baldwin. ¢ Perry Lake in Jefferson County.
Annual festival
The annual Maple Leaf Festival will be Oct. 20-22 in Baldwin. The event, which started in 1958, includes more than 300 exhibits, quilt shows, performing arts, music, food, parade, a 5K run, train rides and a carnival. For a complete schedule of events, go to www.mapleleaffestival.com/events.htm
Copyright 2018 The Lawrence Journal-World. All rights reserved. This material may not be published, broadcast, rewritten or redistributed. We strive to uphold our values for every story published.