Philadelphia — The clever chants started before the Eagles played the Green Bay Packers on Monday night and the derogatory signs came out by the fourth quarter.
Philadelphia sure is ready for Terrell Owens and the Dallas Cowboys.
Tailgaters in the parking lot sang: "Oh-Deee! O.D., O.D., O.D., Oh-Deee, O.D.!!!"
And, that was before kickoff against Brett Favre and the Packers. Once the Eagles overcame a sluggish start and were on their way to a 31-9 victory, fans shifted all their focus to T.O.
Owens was hospitalized last week for what police termed an accidental overdose after Owens said he mixed the pain medication he was taking for a broken bone in his right hand with his dietary supplements. But he played against Tennessee just five days later and caught five passes for 88 yards.
Fans here certainly won't let him forget the incident.
One sign read: "Hope you feel better T.O. so we can hurt you." Another said: "Get a refill. You'll need those pills soon."
Owens will make his much-anticipated return to Philadelphia on Sunday when the Cowboys (2-1) visit the Eagles (3-1) in an important NFC East matchup. It'll be the receiver's first game at Lincoln Financial Field since the Eagles kicked him off the team last November for a series of infractions, including repeated criticism of quarterback Donovan McNabb and the organization.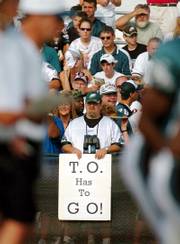 A few days after the Eagles released him in March, Owens signed a three-year, $25 million deal with Dallas. This game has been circled on everyone's calendar since the schedule came out.
Owens should pack earplugs and a blindfold because it could get downright nasty in Philly.
No surprise, however, that his former teammates and coaches are downplaying T.O.'s homecoming.
"They are a tremendous football team and we have to prepare ourselves properly," Eagles coach Andy Reid said Tuesday. "We understand that it's not about one person coming in here, but it's about that whole football team. They have strengths across the board and it is important we prepare ourselves right this week and eliminate any distractions that might be presented to us."
McNabb nearly made it through his entire postgame news conference without a question about Owens - until the last one.
"It's a division game. We need it. We look forward to the challenge. Anything else, I personally don't care," he said.
McNabb will get another chance for a more colorful response when he speaks to reporters today.
Safety Brian Dawkins plans to make sure he doesn't let the hype surrounding the game affect the team's approach. The Eagles already lost to the Giants at home in Week 2 and are trying to end a seven-game losing streak in the division.
"It's going to be a big game for us. We're trying to take care of the house, and you know people in Philadelphia do not like Dallas. They never have and they never will," Dawkins said.
Linebacker Jeremiah Trotter, who tried to mediate the conflict between Owens and the team last year, echoed Reid's thoughts.
"To us, it's another game. Obviously, it's big, because we're playing the Cowboys, but we're not playing Terrell Owens," Trotter said. "We're excited. Every time you play the Cowboys, you're going to get fired up."
Copyright 2018 The Associated Press. All rights reserved. This material may not be published, broadcast, rewritten or redistributed. We strive to uphold our values for every story published.