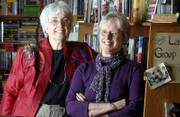 For a blissful six months in 1996, The Raven was the only downtown bookstore selling new books in Lawrence.
Local peddlers Adventure and Terra Nova had recently closed shop, and Borders hadn't yet opened.
"We made a lot of money," says Pat Kehde, who co-owns The Raven Bookstore, 6 E. Seventh St., with Mary Lou Wright. "We really understood the whole concept behind monopolies there for six months."
These days, of course, The Raven Bookstore is no longer the only game in town. But Kehde, 65, and Wright, 66, feel as strongly as ever about helping to preserve the mom-and-pop character of downtown Lawrence with their little shop.
"We're the last independently owned bookstore that sells new books," Kehde says. "I think, in a sense, people who concern themselves about local businesses think of us as an icon."
"And there are people who make a special effort to support us because of that," Wright adds.
The duo opened The Raven on Sept. 1, 1987, with the idea of selling mystery books. But figuring Lawrence was too small to support a one-genre store, they also stocked books on many other topics. Works by local and regional writers rank among their most popular offerings.
"I think there's a sense among local authors that if we weren't here, they would have a hard time finding a venue for their books," Kehde says.
Area scribes also have Kehde and Wright to thank for dreaming up the Langston Hughes Creative Writing Award, which has recognized up-and-coming Douglas County poetry and fiction writers with $500 prizes each year since 1997. The Raven co-sponsors the honor with the Lawrence Arts Center.
The bookstore also underwrites "Mystery!" and "Masterpiece Theatre" on KTWU, and plays host to frequent talks and book signings by authors of regional and national acclaim.
Julie Trowbridge, a longtime Raven customer who recently started working part-time at the store, says one of Kehde's and Wright's greatest strengths is personal service.
"I love dealing with people so much better than machinery," Trowbridge says. "They really do recognize folks ... and go out of their way to locate what they need."
Copyright 2018 The Lawrence Journal-World. All rights reserved. This material may not be published, broadcast, rewritten or redistributed. We strive to uphold our values for every story published.