If you are voting by mail in advance of Tuesday's general election, be sure and check the postage mark on the return envelope.
Some of those envelopes have not had enough postage on them, leaving some to wonder whether their votes will count.
Douglas County Clerk Jamie Shew said some older envelopes marked with an outdated 55-cent postage requirement were sent with the advance ballots. All of those envelopes, however, were supposed to have been updated with a 63-cent sticker, he said. Yet some of those envelopes were mistakenly sent without that sticker.
"I know we've had a couple of people contact us and say the post office had returned them and we said to add the extra postage and send it," Shew said. "The post office has been very good at just going ahead and sending them to us anyway and then we pay."
Lawrence voters Ann Smith and her husband, Leroy Smith, were among those who received envelopes still marked for 55 cents. After completing their ballots, Ann Smith said she didn't have 55-cent stamps so she put 60-cent stamps on each of the envelopes and put them in the mail. The post office returned the envelopes to the Smiths for insufficient postage. After remailing the envelopes, Ann Smith called the county clerk's office about the matter.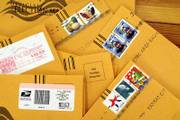 "It's not over the 55 cents, it's over people's votes not counting on account of people's returned envelopes," Smith said.
Shew estimated that about 10 advance ballots in envelopes with insufficient postage have been delivered to his office.
"We have been in communication with the post office to just go ahead and forward them to us," he said.
He said he didn't know how many of the old envelopes without the 63-cent sticker were sent out. Instead of destroying the old envelopes, county staff was to supplement the new envelopes and save some money, Shew said.
As of Wednesday, 6,093 advance mail ballots had been sent out, according to Shew's office. Of those, 2,156 had been returned to his office. People also can vote in advance by going in person to the clerk's office in the courthouse at 1100 Mass. The latest available count shows that 940 people had voted in person by the end of Monday.
Sixty-three cents is all that is needed to mail the advance vote ballots, but they arrive with various amounts of postage on them, including some with no postage, Shew said.
Other than insufficient postage, the biggest mistake people make when mailing their ballots is failing to sign the exterior of the envelope, Shew said. Without that signature, the ballot is invalid.
"We have enough time now to contact people and get them signed," Shew said. "The problem is if we get one on election day and we can't contact them or they are out of town."
The deadline for requesting a mail ballot is Friday, but Shew strongly urges people not to wait until Friday. Mail ballots must be received by Tuesday. They can be dropped off in person on Tuesday up until the polls close at 7 p.m., he said.
People voting in advance at the courthouse must do so by noon Monday.
Copyright 2017 The Lawrence Journal-World. All rights reserved. This material may not be published, broadcast, rewritten or redistributed. We strive to uphold our values for every story published.