Wellsville — Jim Butler heard the car pull onto a gravel lot next to his house just off Highway 33, about a mile and a half north of Wellsville.
"It was about 10:40 p.m. I was sitting here, watching TV," he said, patting the gray-blue sectional in front of a big-screen television.
He was alone. His wife, Cindy, and Jim Jr., the oldest of their five grown sons, had gone to bed.
"I heard two car doors slam," Butler said. "So I turned on the outside light and pretty soon there were these two uniformed officers - a lady chaplain and a gentleman - standing there."
Butler, whose son Jake, a twin, was stationed in Iraq, opened the sliding glass patio door.
"Before they could say anything, I said, 'Just tell me, is he hurt bad or is he dead?'" said Butler, who's not known for mincing words.
"The lady chaplain sort of hung her head and said, 'Is your wife here?'"
Army Sgt. Jake Butler, 24, was the first Kansas soldier killed in Iraq.
"The war started March 19," Butler said. "He died April 1, 2003."
Since then, Butler, a 50-year-old jack-of-all-trades carpenter, oil-rig worker, and cattle raiser, has been hell-bent on keeping Jake's memory alive.
"I've told my boys they may as well get used to me talking about Jake because I'm going to talk about him everyday until I die," he said. "We're not going to forget him."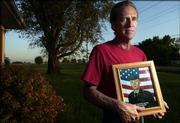 The Butlers - Jim's wife declined to be interviewed - plan on attending the governor's annual Memorial Day ceremony Monday at the Statehouse.
"We'll be there for Jake," Butler said, "but it's a rough time of year for us. Jake was killed April 1, then you got Mother's Day, then Memorial Day, Father's Day and the Fourth of July. It's pretty emotional until we're well into the summer."
Growing up
Jake liked to hunt, fish and drive his four-wheeler in the pastures behind the house. He graduated from Wellsville High School in 1996.
"He was a typical high school kid," said Randall Renoud, former assistant principal at WHS.
"I wouldn't say he was gifted academically or athletically, but he was very well liked and well respected because he knew the difference between right and wrong, and he knew he wanted to do something with his life," Renoud said.
"He was the kind of kid that every principal loves to have," he said. "You could joke with him, you could be serious with him. If he made a mistake - hey, I probably had him in my office a time or two - he'd own up to it and say 'OK, gimme the consequences so we could get on down the road.'"
Sue Shores, a cashier at the Wellsville Market grocery store - the former Nolkes Cash Saver - for the past 14 years, worked with Jake while he was in high school.
"He was always nice and polite, and always helping people out," she said. "You never had to tell him to do anything."
After high school, Jake's good friend, John LeRoy, helped him land a job at SMH, a materials handling company in Olathe.
For almost a year, they carpooled - Jake drove a 10-year-old Chevy Blazer, blue with a black top; LeRoy drove a red Pontiac Grand Prix.
"One of them would drive one week, the other would drive the next," Butler said.
LeRoy was supposed to drive on March 18, 1998, but he overslept.
"Jake called him, and (LeRoy) said 'Go on without me, I'll see you there.' So Jake left - didn't think anything about it," Butler said.
Thirty minutes later, LeRoy's car was struck as he pulled onto Highway 68, south of Wellsville.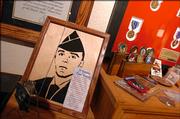 "He was killed," Butler said. "That shook Jake up pretty bad."
A few months later, Jake let his father know he was thinking about joining the Army. He enlisted in November, re-enlisted in 2001.
"Jake wanted to make a difference," Butler said. "He didn't want to just have a job someplace. That wasn't enough."
'An ambush'
A calvary scout, Jake was sent to Kuwait in 1999, 2002 and again on March 2, 2003. Three weeks later, U.S. troops moved into Iraq. He was there.
"On the news, they said he was killed by an RPG - a rocket-propelled grenade," Butler said. "But I had guys who were there tell me that's not what happened."
Butler said Jake's unit had been sent to find out whether a bridge on the Euphrates River in As Samawa was sturdy enough for armored vehicles to drive across.
When they got there, Butler said, the lead Humvee was hit with an RPG fired from across the river. Jake's Humvee pulled up beside the lead vehicle in an attempt to defend and rescue the wounded. At that point, Butler said, 25 Iraqi soldiers who had been hiding behind nearby berms opened fire on Jake's vehicle.
"Basically, it was an ambush," he said. "They had him on three sides."
Army records - Butler insisted on seeing them - showed the door on Jake's side of the Humvee was hit 14 times.
"Jake only got hit once, right here," he said, pointing to a spot about an inch above and a little in front of his right ear.
"It came out here." He pointed to a spot by his left ear.
"You can get the Internet still today and find stories that say Jake was killed by an RPG," Butler said. "But that's not what happened."
Posthumously, Jake received Silver Star and Bronze Star medals and a Purple Heart. All three, along with Jake's dress uniform, a dozen framed commendations, and the American flag that adorned his coffin, are displayed on a wall in the Butlers' living room.
"You know that (controversy) about them not letting the media take pictures of the coffins coming out of Iraq with flags on them?" Butler said. "Jake's coffin didn't have a flag. He was killed in April, they didn't get flags (for coffins) over there until August."
Not coming back
Four months after Jake's death, his platoon sergeant, Josh Corkrean, hand-delivered a letter Jake wrote - but hadn't mailed - two hours before he was killed.
"It starts out, 'Well, if you're reading this, you know I didn't make it,'" Butler said. "He says when he gets to heaven he'll tell everybody hello and that he loves them. And then he says, 'Don't forget about me.'"
Earlier, Jake had confided in his father that he'd had dreams in which he encountered LeRoy.
"In the dream, John LeRoy tells him, 'Jake, it's time for you to come live with God and me,'" Butler said. "I know Jake, he wouldn't make something like that up. I believe he knew he wasn't coming back that day."
Corkrean assured Butler that if he had known about the dreams, he wouldn't have let Jake go on the mission.
"I said, 'Yeah, and he would have kicked your ass, too,'" Butler said. "There would have been no stopping him."
The last time Jake was home, he and his twin brother, Jim Jr., and his father gathered in the graveled lot beside the house.
"I told both of them that if anything happened to Jake, I was headed for Iraq," Butler said. "That was the promise I made to him - to both of them, really."
The night after Jake's funeral, Butler filled out the paperwork for a passport.
"When I got it, I wrote the Kuwait Embassy in Washington and asked for a visa," he said. "They sent me a form that said 'What do you plan to do when you're in Kuwait?' and I put down that I needed to pass through Kuwait to get to Samawa, where my son had had been killed."
Two weeks later, Butler said, his visa arrived in the mail.
A pilgrimage
U.S. Sen. Pat Roberts, R-Kan., told him not to go. "I got a letter from him, advising me that it was dangerous and not wise to go," Butler said, pausing.
"My son was killed in Iraq. You think I don't know it's dangerous?"
U.S. Sen. Sam Brownback, R-Kan., discouraged him, too.
"He actually came out here April 2nd or 3rd - drove up, introduced himself. I didn't know who he was," Butler said. "He asked me if there was anything he could do, and I said two things: 'I'd like my family to meet the president, and I need to get to Iraq.'"
According to Butler, Brownback said meeting the president "could be done," but going to Iraq was not a good idea.
"He didn't think he could help me there," Butler said, "which, I understand. If anything happened to me, it'd be political suicide for him. I didn't hear from him after that - no call, no letter. But that's OK, I respect the situation he and Roberts are in."
Butler left for Kuwait on Oct. 10, 2003. It was his first time on an airplane.
"When I got to the airport in Kuwait City at 11:30 p.m., there was a lady holding up a sign that said 'Mr. Butler,'" he said. "It was pretty obvious - the way I looked - I was the only Mr. Butler in the place. So I said 'Are you looking for me?'"
Soon joined by three men, all Americans, Butler was escorted to Camp Doha, an Army base in Kuwait.
"It made a lot of people mad that I was there - I understand that," Butler said. "But my son had been killed, and I was there to keep a promise. That's all there was to it."
The first and last
After two days of negotiations, Army officials agreed to take Butler to the site of Jake's death.
"Twenty-five soldiers volunteered for the mission," he said. "Three Blackhawk helicopters took us to within two miles of the bridge. We walked the rest of the way in."
At the bridge, Butler played two CDs. The first had the five songs played at Jake's funeral:
¢ "Sgt. McKenzie" from the "We Were Soldiers" movie soundtrack.
¢ "Proud to be An American," by Lee Greenwood.
¢ "Darling be Home Soon," by Loving Spoonful.
¢ "Only Time," by Enya
¢ "I Believe," by Diamond Rio.
The second CD had one song, John Lennon's ode to an oppression-free world, "Imagine."
"Before he left for Iraq, Jake and I went to Best Buy to get him a stereo and some speakers he could hot-wire into his Humvee - everything over there is hot-wired," Butler said. "I saw this John Lennon CD. He'd never heard Imagine, so I got it for him."
After he played the CDs, Butler turned to his escort, Col. Jeff Snow. "He said, 'What are you going to do now?'' Butler said. "I gave him the first CD, I threw the other one in the Euphrates River, and then I turned to him and I said, 'I've kept my promise, I'm going home.'"
Butler said he's not heard of another parent of a soldier killed in Iraq making a similar journey.
"I'm pretty sure I was the first and the last," he said.
'He believed in freedom'
Butler still has trouble explaining how his going to Iraq became such an all-consuming quest and why he risked his life - and the lives of others - just to play some CDs next to a bridge.
"I don't know how to put it into words, but Jake and I were connected. You could call it a spiritual thing," he said.
"I'll say this: The way I was raised - and the way I've raised my boys - when you make a promise, you keep it. Big or little doesn't matter, you keep it," he said. "You make it right."
Three years after Jake's death, Butler refused to criticize or even question President Bush's decision to invade Iraq. He said simply, "Regardless of what you think about the war, you have to support our troops 100 percent."
He has no use for Cindy Sheehan, the California mother whose soldier son, Casey Sheehan, was killed in Iraq and who has been outspoken in her opposition to the war.
"I feel like what she's doing is a disgrace," Butler said.
It's galling, he said, because Sheehan is taking advantage of the freedom that Jake and others died defending.
"I guess she has the right to do what she's doing," he said. "But that doesn't mean I have to like it."
Though Butler's support for the troops and Bush is unwavering, he is quick to criticize the government.
"I was raised to believe that the people are the government. It's not that way anymore," he said. "Big corporations run the government now. The working people have no say.
"The politicians - Republicans and Democrats - argue all the time, they're like little children fighting over a piece of candy."
But aren't the quarreling politicians the same people who put Jake in harm's way? And isn't the government that's beholden to special interests the same government that saw fit to attack Iraq?
"That's what people don't understand," Butler said. "Jake didn't die for the government or the politicians, he died fighting for something he believed in - he believed in freedom. Those are two different things."
Copyright 2018 The Lawrence Journal-World. All rights reserved. This material may not be published, broadcast, rewritten or redistributed. We strive to uphold our values for every story published.