He was a high school football star turned husband, and on Oct. 18, 2005, Lucas Frantz was an American soldier who was killed in combat in Iraq.
Sometime later this year, when his Army unit returns to their home base at Fort Wainwright, near Fairbanks, Alaska, Frantz' 24-year-old widow will be there to welcome the soldiers with whom her husband served.
"It's something I've got to do for myself and for Lucas," Kelly Frantz said. "As much as Lucas was a brother to them, I am their sister. We are a family."
The Tonganoxie man's dedication to serving his country led him to join the Army Reserves at age 17. Three years later, in May 2003, Frantz requested and was granted active duty status. The United States had conquered Baghdad but the death toll from insurgent attacks was starting to add up.
Lucas Frantz was assigned to Fort Wainwright's First Battalion, 17th Infantry Regiment, 172nd Stryker Brigade Combat Team. The battalion deployed to Iraq in August 2005.
Only two months later - on his 22nd birthday - vehicle commander Spec. Lucas Frantz was killed in a sniper attack in the city of Mosul. He was the first member of his unit killed in action.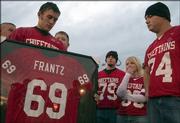 The news of Frantz' death shocked and saddened Tonganoxie. Tonganoxie High School paid its tribute to Frantz by retiring his football jersey during a special ceremony the night of a game against De Soto. An offensive lineman, Frantz had worn No. 69.
Frantz was a great friend with a big heart, Chad Vukas said that night.
"He gave it everything he had," Vukas said. "It is an honor for me to know him and to be his friend."
The emotional ceremony that night was one Kelly Frantz will never forget.
"It was an overwhelming moment," she said. "I showed up feeling lucky to be Lucas' wife."
Kelly Frantz also won't forget the torn emotions she experienced the day of her husband's memorial service as his body was laid to rest in Tonganoxie's Maple Grove Cemetery. A crowd estimated at 400 attended the service. More than 300 American flags lined the procession route to the cemetery.
The service was attended by about a dozen protesters who were followers of the Rev. Fred Phelps. Phelps and his followers, of the Westboro Baptist Church in Topeka, have protested funerals of servicemen killed in Iraq claiming that God is on the side of the terrorists.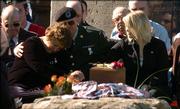 Counterprotesting were about 200 veterans who rode their motorcycles into Tonganoxie. Dozens of law enforcement officers from several agencies also were there in case there was trouble. There were no incidents.
But the protest stirred Kelly Frantz to appear before the Kansas Legislature requesting legislation that would put restrictions on such protests.
Frantz said she was nervous about speaking before the lawmakers, but knew it was something she had to do.
"I was just trying to help any way that I could so other families wouldn't have to go through that," she said of the memorial service protest. "It was not fun. It was horrible."
On Memorial Day, Frantz plans to attend a state ceremony in Topeka. She still stays in contact with members of the Stryker Brigade who knew her husband.
"It was hard for them being over there and not being able to come back for Lucas' funeral," she said.
Copyright 2018 The Lawrence Journal-World. All rights reserved. This material may not be published, broadcast, rewritten or redistributed. We strive to uphold our values for every story published.