The informant described as spurring the search for Jimmy Hoffa's remains on property now known as Hidden Dreams Farm is an ailing prison inmate who, according to his former lawyer, first told the FBI about the location 30 years ago.
In a telephone interview Friday with The Associated Press, lawyer Joseph J. Fabrizio said that in 1976 his client, Donovan Wells, "claimed to have some definite information - whether it was helpful or not, I have no way of knowing."
Wells "knew everybody with the Teamsters, and I'm pretty sure they knew him," Fabrizio said.
A government investigator familiar with the FBI's digging operation in Milford Township, about 30 miles northwest of Detroit, said Wells was not nearly as forthcoming in 1976 as he has been recently and that his story had "evolved" with additional detail.
Interest in Wells' tip was heightened after the 75-year-old inmate passed a polygraph exam. Authorities think he believes the story he's telling, said the investigator.
The investigator spoke on condition of anonymity because some of the information he was relating comes from records that have been ordered sealed by a federal judge. Among them is an FBI affidavit detailing the basis for the search warrant used to dig up the ground on the horse farm.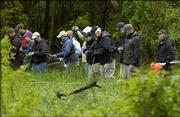 Wells, who once lived on the property, was well-acquainted with the owner, former Teamsters official Rolland McMaster, who also owned the property when Hoffa dropped from sight in 1975, Fabrizio said.
A lawyer for McMaster, Mayer Morganroth, said the farm was searched in the 1970s and nothing was found. He confirmed that FBI agents visited the 93-year-old retired Teamster this week, and Morganroth said most of their conversation related to his farm.
Wells is mentioned in a 1978 book on the Hoffa disappearance by author Dan Moldea. The book focuses heavily on McMaster and his long-
standing relationship with Hoffa, which ended with a falling out shortly after Hoffa went to prison in 1967 for jury tampering and fraud.
Fabrizio said Wells owned a trucking company and was never a Teamsters official.
Fabrizio said the information Wells offered the government during plea negotiations in 1976 involved heavy machinery and suspicious activity on the farm around the time of Hoffa's disappearance on July 30, 1975.
Wells pleaded guilty in August 1976 in federal court in Detroit and was sentenced to one year in federal custody in a case involving "theft from interstate shipment," according to court records.
Copyright 2018 The Associated Press. All rights reserved. This material may not be published, broadcast, rewritten or redistributed. We strive to uphold our values for every story published.