Cleveland — Jake Westbrook was so focused he hardly noticed an approaching thunderstorm.
The right-hander pitched a six-hit shutout and Travis Hafner hit a grand slam to help the Cleveland Indians defeat the Kansas City Royals, 5-0, Wednesday night.
"I didn't really know about the storm, I just wanted to go out and get it over with," said Westbrook (4-2), who maintained his focus in a rainy ninth inning to complete his second career shutout and first since June 14, 2004, against Baltimore.
Cleveland got only three hits but took advantage of seven walks to win for the second time after a six-game losing streak. Hafner broke that streak with a game-winning two-run homer in a 6-4 victory over the Royals on Tuesday night.
The Royals fell to 2-19 on the road, tying the worst start away from home in major-league history. They have lost five straight overall and are a season-low 17 games under .500.
"It's ridiculous, without a doubt," third baseman Tony Graffanino said. "Whatever we are doing isn't good enough."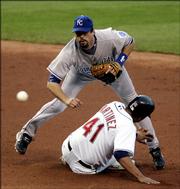 Westbrook won for just the second time in seven starts since April 9. He didn't walk a batter and struck out two - both in the first inning. Then he used a sharp sinker to record 18 outs on grounders, including every out of the third through fifth innings.
"He lives and dies with that sinker," said Graffanino, who got one of the Royals' six singles. "When he spots it like that, he's pretty effective."
It was Cleveland's first complete-game shutout since C.C. Sabathia did it Sept. 4, 2004, at Seattle.
"Every starting pitcher's goal is to finish the ballgame," Westbrook said. "It's a nice feeling."
Hafner was 0-for-7 in his career against Jeremy Affeldt (2-3) until connecting in the third. He joined Texas' Kevin Mench as the only players with two grand slams this season. Hafner also did it May 1 against the Chicago White Sox.
Affeldt walked Grady Sizemore and Jason Michaels with one out in the third. Jhonny Peralta reached on an error by Graffanino to load the bases for Hafner, who hit the next pitch into the right-field seats for a 5-0 lead.
"He throws a cutter to me quite a bit, but this time it was a fastball down the middle," said Hafner, who homered in consecutive games for the seventh time this season.
Affeldt allowed four earned runs and three hits over six innings. He walked six and struck out one.
"The walks pretty much buried our team," he said after the game. "I just couldn't find the plate. Then Hafner did exactly what he should have done with that pitch - put it in the seats."
Copyright 2018 The Associated Press. All rights reserved. This material may not be published, broadcast, rewritten or redistributed. We strive to uphold our values for every story published.