For their birthdays, most 5-year-old boys want Hot Wheels, a bicycle or a computer game.
Not Robbie Matthews.
"The only thing he wanted - and I mean the only thing - was a pedestal for his drum kit," said Robbie's mother, Kris Matthews. "We couldn't talk him into wanting anything else."
She wasn't surprised. "Since he was 10 months old, he's never had a security blanket, never had a teddy bear," Kris said. "For him, it was drum sticks. They were his security."
Robbie and a three-piece band led by his father, Paul Matthews, on piano, performed three Beatles' tunes - "Help," "All My Loving" and "Eight Days a Week" - and The Troggs' chestnut "Wild Thing" during a morning assembly Wednesday at East Heights Early Childhood Center, 1430 Haskell Ave.
Also in the band were Doug Byers on guitar and East Heights custodian James "Mr. T" Thomas, on bass.
They had the joint rockin'. Or, as Robbie said afterward, "That was awesome!"
Paul, 45, plays drums in the local band Blue Orleans, and with Billy Ebeling. He also gives lessons.
"Robbie can play," Paul said.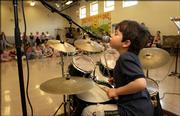 Though Robbie writes and draws right-handed, he plays drums, Paul said, "like he's ambidextrous."
Paul said his son has been diagnosed as "high functioning autistic," adding, "I really haven't taught him that much; he watches instructional videos and just picks it right up."
Robbie also sings while he plays drums.
"That's not as easy as it sounds," Paul said.
The family recently watched the "Monterey Pop" video, which features a 24-year-old Jimi Hendrix and one of Robbie's favorite drummers, The Who's Keith Moon.
"That was a mistake," Paul said. "Not too long after that, (Robbie) smashed his ukulele imitating Hendrix, and he tipped over his drum set imitating Keith Moon."
Robbie wanted to play The Who's "My Generation" during Wednesday's assembly, but Paul said no.
"I was afraid he'd knock over his drums," Paul said laughing.
In the fall, Robbie will be a kindergartner at Sunset Hill School.
His parents are sure he'll do well. "East Heights has been great," Kris said. "They've really worked on his strengths and, at the same time, made him a more well-rounded kid. This is a wonderful program."
One drawback: East Heights preschool is all-day, but kindergarten at Sunset Hill will be half-day.
"That's a disappointment," Paul said. "We were really hoping for all-day kindergarten."
Earlier this week, Lawrence school officials said the district's state-aid allocation wasn't enough to cover the costs of converting half-day kindergarten to all-day.
The Matthewses also have a 3-year-old daughter, Leah.
Copyright 2018 The Lawrence Journal-World. All rights reserved. This material may not be published, broadcast, rewritten or redistributed. We strive to uphold our values for every story published.