Beth Johnson is hoping that businesses searching for a community in which to relocate or expand their operations go to school on a new set of rankings out this month.
Lawrence ranks third among 362 metro areas in the country when it comes to the quality of public schools, according to a study conducted by Expansion Management magazine.
The magazine is circulated among corporate development representatives and private site selectors - the consultants often hired by companies to find places that would be appropriate for new plants, corporate headquarters or other operations that can create new jobs, generate additional tax revenue and spawn growth among suppliers, distributors and other businesses in a community.
In short: Such rankings can make Johnson's job a little easier.
"It's terrific," said Johnson, vice president for economic development at the Lawrence Chamber of Commerce. "It just proves, or helps prove, the great quality of life that we know we have and can sell to others."
Lawrence's public schools are no stranger to the list. A year ago the community ranked fourth, after a No. 2 ranking in 2004.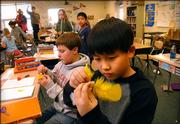 This year, Lawrence and its district - with nearly 10,000 students, 850 teachers, 900 classified employees, 55 administrators working through two high schools, four junior high schools, 15 elementary schools, a virtual school, an early childhood center and other locations - ranked behind only State College, Pa., and Ithaca, N.Y., on the overall list.
The study looked at 3,800 districts across the country, which together educate more than 36 million students, to see which ones produced students with the best chance for success. The study used test scores of graduating students, plus community investments and other factors to compile the rankings.
Top 10
Top metro areas in the country for quality of public schools, according to Expansion Management magazine: 1. State College, Pa. 2. Ithaca, N.Y. 3. Lawrence 4. Iowa City, Iowa 5. Sheboygan, Wis. 6. Charlottesville, Va. 7. Eau Claire, Wis. 8. Madison, Wis. 9. Columbia, Mo. 10. Harrisonburg, Va.
Randy Weseman - as both the district's superintendent and as a member of the chamber's board of directors - hears plenty about the value of good schools to companies looking for a place to invest. He often visits with corporate executives, organizes school tours and provides data to help business leaders make informed decisions.
"Communities like Lawrence, across the United States, are competing for these businesses : and the fact that we're ranked third right now is very appealing to these businesses and prospects," Weseman said.
"But we are a school district that is never satisfied with the status quo, and we'll continue to push the boundaries and maybe move that ranking up another couple spaces for next year."
Copyright 2018 The Lawrence Journal-World. All rights reserved. This material may not be published, broadcast, rewritten or redistributed. We strive to uphold our values for every story published.