After years of education, Dwight Hilpman hopes he has learned something from his years of living in Lawrence.
How to get to Campanile Hill - fast.
"We'll have all of 20 minutes to savor Evan's graduation before we buzz over to the university," said Hilpman, whose son graduates from Free State High School the same day as older brother Dylan, who is receiving his fine arts degree from Kansas University. "I don't know how we're going to do it."
It's a dilemma that is challenging more than Hilpman and his wife, Peggy, who were in Tempe, Ariz., on Friday for the master's degree hooding ceremony for their daughter, Cassandra, at Arizona State University.
Retailers, caterers, hoteliers, florists, equipment renters and dozens of other business folks who bank on big graduation weekends each spring are doing their best to cope with this weekend's pending arrival of a relatively rare reality.
With KU, Lawrence High School and Free State High School all having commencement ceremonies set for Sunday, there's no shortage of pressure on products, services and facilities for the big day's events - whether it's a walk across a stage or down the hill.
The Eldridge Hotel is expecting to serve food and drink to at least 10 large parties Saturday night, each with 20 to 30 people. The business will spill over into the hotel's historic Big Six Room, used only when the restaurant, bar and Crystal Ballroom are full.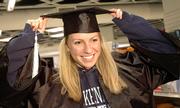 And that's only at or below street level. All of the five-story hotel's 48 suites also will be occupied for the weekend, at rates ranging from $160 to $215 a night, a premium of about 30 percent.
"We've been booked for a year, and I'm already getting calls for next year," said Nancy Longhurst, general manager of The Eldridge Hotel, which opened a year ago Friday at 701 Mass. "I have a list in my desk drawer for next year."
All spoken for
Judy Billings, director of the Lawrence Convention and Visitors Bureau, said all 1,100 hotel rooms in Lawrence are spoken for this weekend, plus many others in nearby communities.
She suggests that anyone looking for a room contact the Lawrence Visitor Center - at (800) LAW-KANS, or 865-4499 - for assistance. Center employees check in with area hotels for last-minute cancellations.
"I don't like having to send people to other cities for lodging," she said. "I'd rather keep that revenue in town - keep those people eating, shopping, buying gas, doing things and lodging here - than sending it away."
At Sunflower Rental, Stacey Wendland has been stocking up for weeks. The company will be providing table linens, folding chairs, drink bowls, canvas tents and seemingly anything else to throw a party for at least four dozen events this weekend.
"I just received a semi-load of tables, just this last week, in anticipation of the graduations and weddings in early June," said Wendland, vice president and general manager of the store at 3301 W. Sixth St. "That's a full trailer, top to bottom, front to back. We'll be ready."
Sunflower still has a few tables, chairs and other party staples held back from reservations, to help meet the inevitable last-minute walk-up business.
"I've counted on a lot of people not planning ahead," said Wendland, who already has planned ahead herself and scheduled extra employees to work. "But you can't get the margarita machine. That was gone a long time ago."
Shawn Brown, store director at Hy-Vee, 4000 W. Sixth St., said he would be calling in extra personnel from Kansas City stores to help decorate cakes, slice deli meats and otherwise keep up with an onslaught of catering, deli and bakery business. He's even rented additional barbecue trailers to take to graduation events.
"We'll do whatever we can to meet the needs of our customers," Brown said.
The folks at Audrey's Hallmark, in the Parkway Shopping Center at Clinton Parkway and Kasold Drive, have been stocking up for the graduation rush for weeks. On top of all the graduation teddy bears, graduation gift bags and graduation plates, napkins, streamers, wrapping paper and other accessories, there's a full wall of graduation cards - some 200 or 300, just waiting to be picked over.
"We've got them for high school, for college, for specialized degrees - a master degree, a doctorate - and we've got preschool graduation, teacher appreciation, cards that hold money, cards that have bookmarks in them. ... They do everything these days," said Jessica Wayner, a sales associate.
The store already had been doubling up on staff leading up to Mother's Day, and it soon will have additional employees at the registers later this week. That's when most people will be shopping for their graduation gifts and cards.
Two store employees will be putting in extra hours this week, but won't be around Sunday. Both are graduating from KU.
"They will have Sunday off," Wayner said. "But we'll be here."
Copyright 2018 The Lawrence Journal-World. All rights reserved. This material may not be published, broadcast, rewritten or redistributed. We strive to uphold our values for every story published.