Things didn't start out well, as the Skeletons opened the game scoring a goal for the other team, but they turned it around to compete in a shootout with team Blue in a U6 Boys-A division coed match Saturday at Youth Sports Inc. Both teams went back and forth until the final whistle signaled an 8-6 Blue victory.
Skeleton forward Chase Hofer nearly singlehandedly kept his team in the game, scoring two goals in the first half and adding a third near the end of the game to record a hat trick. Despite the valiant effort, 4-3 was the closest the Skeletons would get to the victory.
"Scoring goals and having fun with my friends are the best parts of the game," Hofer said.
His teammate Graham Edmonds, who added a goal of his own, agreed.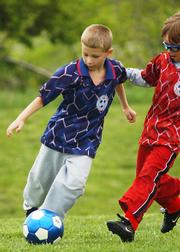 "Scoring feels great," he said.
If scoring felt great to Edmonds and Hofer, then players on the Blue team had to be feeling good as well. Three players on the Blue team recorded two goals including the forward tandem of Zachary Chipman and Bryce Hadl.
If the outcome were based on effort it would be hard to determine the victor as neither team let their foot off the gas during the course of the entire match. In this offensive shootout, however, the Blue team just had a couple more bullets.
Copyright 2017 The Lawrence Journal-World. All rights reserved. This material may not be published, broadcast, rewritten or redistributed. We strive to uphold our values for every story published.