United Nations — The United States, Britain and France are pushing for sanctions if Iran continues to defy demands that it halt uranium enrichment - but not the sweeping economic and military embargoes imposed on Iraq after its 1990 invasion of Kuwait.
What the U.N. Security Council's three veto-wielding Western members aim for are targeted sanctions, such as restricting trade in equipment with both civilian and military uses and banning travel and freezing the assets of Iranians who oversee the country's nuclear program.
U.N. sanctions imposed on Saddam Hussein's regime banned all Iraqi imports and exports, except food and medicine, and authorized inspections of shipments in and out of Iraq to verify their cargo. The sanctions halted legal oil exports from Iraq, a major producer with the world's second-largest reserves.
In Paris, U.S. Undersecretary of State Nicholas Burns predicted Tuesday that Europe would agree to support a Security Council resolution that would carry the unstated threat of sanctions.
But Washington and its allies face an uphill struggle in winning backing from Russia and China, the council's other veto-wielding permanent members. Those nations, which have strong ties to Iran, are leery of the resolution even if it doesn't specifically mention sanctions.
The resolution would make the council's previous demand for Iran to stop uranium enrichment mandatory, but the Western allies want it authorized under Chapter 7 of the U.N. Charter, which would make it enforceable later by sanctions or military action.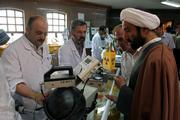 U.S. Ambassador John Bolton said Tuesday he expects the resolution to be introduced in the Security Council "within a day or two."
Iranian President Mahmoud Ahmadinejad has been defiant toward the Security Council's demands, and he has sparked international criticism by saying Israel should be wiped "off the map" and for questioning whether the Holocaust happened.
A top Revolutionary Guards commander, Gen. Mohammad Ebrahim, was quoted Tuesday by the Iranian Student News Agency as saying Israel would be Iran's first retaliatory target in response to any U.S. attack.
Israel's army chief, Lt. Gen. Dan Halutz, told the Maariv newspaper Tuesday that if Iran develops nuclear capability, it will constitute a threat to Israel's existence. But he said the world has the military might to prevent Iran from developing a nuclear weapon. Asked whether Israel would be involved in such a military operation, Halutz said "We are part of the world."
Copyright 2018 The Associated Press. All rights reserved. This material may not be published, broadcast, rewritten or redistributed. We strive to uphold our values for every story published.