Perhaps it was the fatigue factor. Maybe it was the Olathe Syndrome. Or even a combination of the two.
Whatever the reason, Free State High's girls soccer team seemed to go through the motions in a 10-0 loss to Olathe East on Tuesday at FSHS field.
"It was our third game in four days," Firebirds coach Jason Pendleton said. "That, plus playing a team as good as Olathe East, was probably too much for us."
In nearly a decade of trying, Free State never has defeated traditional power Olathe East in soccer.
"From an athletic perspective," Pendleton said, "we know it's apples and oranges. We can't control how good they are, but we can control how hard we play."
The Firebirds fell behind in a flash. Olathe East's Lindsey Maher scored in the third minute, then Maher drilled another goal in the fifth minute. The Firebirds were down 2-0 before anyone was even breathing hard.
"In the first half," Pendleton said, "our effort and focus was very poor."
By the time the first half ended, the Hawks were cruising, 7-0, and it was pretty obvious it was only a matter of time before O-East recorded three more goals and ended it via the mercy rule.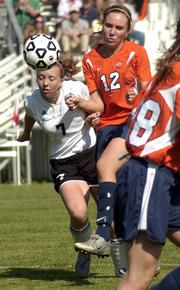 Sure enough, Olathe East made it 8-0 in a hurry - Caitlin Noble counted a goal just 49 seconds into the second half. At that stage, it appeared the Firebirds would mail it in, but they resuscitated and went another 20 minutes before O-East scored again.
Finally, though, with 17:48 showing, freshman Alyssa Dickerson's second goal of the match brought the Firebirds' agony to an end. Olathe East took 18 shots on goal and made 10. Meanwhile, Free State was credited with only one shot on goal in nearly 63 minutes.
Emily Erb, one of only two seniors on the Firebirds' roster, didn't play because of a concussion suffered Friday in practice. She was on hand, although not in uniform, and watched yet another Free State loss to a school from Olathe, the hotbed of Kansas girls soccer.
"It's pretty frustrating that they're more talented than we are," Erb said. "I think our girls don't play hard because they think they're going to lose. It was frustrating we didn't play hard."
Erb said she hoped to be cleared to perform again when the Firebirds (3-9-1) resume competition Thursday at Olathe North.
Copyright 2018 The Lawrence Journal-World. All rights reserved. This material may not be published, broadcast, rewritten or redistributed. We strive to uphold our values for every story published.