Topeka — The Kansas Senate took three swings at adopting a school finance plan Thursday and whiffed on all three.
After more than six hours of debate, the Senate rejected a proposal already approved by the House, a plan developed by Senate leaders, and a measure by Sen. Jim Barnett, R-Emporia, who is running for governor.
"The Senate is pretty well fractured in terms of school finance," said Sen. John Vratil, R-Leawood.
Thursday's collapse slows efforts to increase funding to schools and comply with a Kansas Supreme Court order.
With the first adjournment of the session scheduled today or Saturday, the inability to approve a school funding plan tosses the issue into the pressure cooker of the wrap-up session, which starts April 26.
Gov. Kathleen Sebelius, who had thrown her support behind the House-approved plan, said she was disappointed.
"They rejected a vision of stronger public schools, which I support, which would have ensured every Kansas child could get a first-class education through all-day kindergarten, extra help for students in need, and the freedom for communities to provide additional local support and control," Sebelius said in a prepared statement.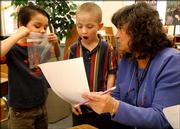 The varied votes in the 40-member Senate showed the tug of wars.
"It is very difficult to assemble a compromise that can get to 21 votes because of the diversity of interests of the state on school finance," said Senate Majority Leader Derek Schmidt, R-Independence.
The Kansas Supreme Court has ordered lawmakers to increase school funding in line with a cost study that calls for more dollars aimed at students in poverty.
Senators immediately tangled over what the state could afford and what would be fair for the majority of Kansas' 450,000 public school students.
The battle lines formed between representatives of urban and rural school districts, poor and wealthy districts and those who felt schools were getting too much money and those who thought they weren't getting enough.
"They are the bottomless pit," Sen. Kay O'Connor, R-Olathe, said of school officials requesting more funding. "There is an element of greed in our public school leadership. Are they teaching the greed to our children? I believe they are."
Some Johnson County senators sought provisions that would allow school districts to further increase local property taxes for schools. But Sen. Janis Lee, D-Kensington, said the provision was "immoral" because it would leave children in poorer districts further behind.
When lawmakers rejected the ability to raise more local taxes, Sen. David Wysong, R-Mission Hills, said: "Johnson County is the economic engine. You are cutting part of that engine away."
Up for votes was the House plan that would have increased funding $633 million over three years. That failed 14-20 with six passing.
The Senate leadership plan would have cost more than $700 million over the same period. That failed 16-24.
And the Barnett plan, $495 million over four years, failed on a 20-20 tie vote.
Barnett said his plan could have been paid for through growing state revenues, while the other two plans would have needed some kind of new revenue source in future years.
But increasing tax revenue receipts over the past year have brightened the fiscal forecasts. Another official revenue estimate is due April 17.
The Lawrence school district would have received an increase from $1.6 million to $3.2 million in the next school year under the proposals.
Sens. Marci Francisco, D-Lawrence, and Roger Pine, R-Lawrence, were on opposite sides through the voting.
Pine said he supported the smaller Barnett plan because "it was fiscally responsible and still puts a significant amount into school finance."
Opponents of that plan, however, said it fell far short of what the Supreme Court wants. "I don't think anyone knows if it would pass court muster," Pine said.
Francisco supported the more expensive House and Senate leadership plans.
"My real concern is that the courts have asked us to look at adequately funding education.
"The comments made to support the Barnett plan was this is what we can afford, not what will provide an adequate education," Francisco said.
But opponents of the more expensive plans said they would require tax increases that would hurt the economy, and expanded gambling, which has yet to gain approval in the Legislature.
But Francisco said the Legislature also has been voting for hundreds of millions of dollars in tax cuts this session.
"That's saying we have more money than we need. If we have more money than we need, then why aren't we spending it on education?" she said.
How they voted
Here's a look at how Lawrence area senators voted Thursday on school funding plans.
House Bill 2986 proposed a $633 million increase in school funding over three years.
¢ Sen. Marci Francisco, D-Lawrence, Yes.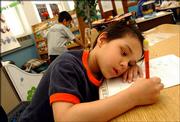 ¢ Sen. Roger Pine, R-Lawrence, No.
¢ Sen. Anthony Hensley, D-Topeka, Yes.
The measure failed 14-20, with six senators passing.
Senate Bill 584 called for an approximately $700 million school funding increase over three years.
¢ Sen. Marci Francisco, D-Lawrence, Yes.
¢ Sen. Roger Pine, R-Lawrence, No.
¢ Sen. Anthony Hensley, D-Topeka, No.
The measure failed 16-24.
Senate Bill 501 would increase school funding $495 million over four years.
¢ Sen. Marci Francisco, D-Lawrence, No.
¢ Sen. Roger Pine, R-Lawrence, Yes.
¢ Sen. Anthony Hensley, D-Topeka, No.
The measure failed 20-20.
Copyright 2018 The Lawrence Journal-World. All rights reserved. This material may not be published, broadcast, rewritten or redistributed. We strive to uphold our values for every story published.