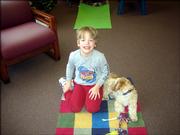 Seven-year-old Vincent, a student at Hillcrest School, is seeking a Big Brother through the Big Brothers/Big Sisters of Douglas County program. Vincent describes himself at smart, nice and funny. If Vincent had a lot of money, he said he would buy pumpkins, chocolate chip cookies and toys. Vincent said he would like to work at a pet store. Among his favorite activities: camping, swimming, playing card games, arts and crafts, going to the movies and gardening. Vincent said he would like to learn new activities.
Winning a cake in his school's cake walk was a memorable moment for him. Vincent hopes he can make more special moments with a Big Brother. For more information about the program or to become Vincent's Big Brother, contact the organization at 843-7359 or attend an information meeting at 5:15 p.m. Tuesdays or noon Wednesdays at 1525 W. Sixth St., Suite A.
Copyright 2018 The Lawrence Journal-World. All rights reserved. This material may not be published, broadcast, rewritten or redistributed. We strive to uphold our values for every story published.