The Boston Red Sox and Tampa Bay Devil Rays got into another fight - this time in a game that didn't even count.
One week before opening day, excitable reliever Julian Tavarez punched Tampa Bay outfielder Joey Gathright lightly in the jaw Monday after a play at the plate. Players ran in from the benches and bullpens, clutching opponents and trying to keep their teammates from going after the other side. No injuries were reported.
The action came one day after Boston almost got into a dustup with Philadelphia. That trouble started when Red Sox pitcher Josh Beckett yelled at Phillies slugger Ryan Howard when the right-hander thought the first baseman took too long to watch what he might have thought was a homer but ended up being a long flyout.
In Boston's 12-11 win Monday, which ended when Hee-Seop Choi walked with the bases loaded in the bottom of the ninth, Gathright raced home while Julio Lugo was caught in a rundown between first and second in the eighth. Second baseman Zach Borowiak threw to Tavarez, who tagged Gathright out as the outfielder slid.
Gathright said Tavarez stood on his right forearm after the tag. Tavarez agreed but said he wanted to beat Gathright to the punch.
"I saw him try to get up and I wasn't going to let him throw a punch at me right away," said Tavarez, who threw a second punch on the top of Gathright's head. "You hear about whoever throws the first punch gets the win. That's what happened."
In Tampa Bay's clubhouse, Gathright rolled up his right sleeve to show a small scratch on his right forearm. He said he had pushed Tavarez's left knee to try to free his arm. But Tavarez drew his fist back with Gathright's right knee and hand still on the ground.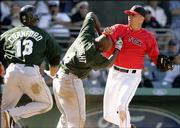 "It just kind of grazed the jaw," Gathright said.
Both players were calm after the game.
Gathright said "we'll forget about it tomorrow." Tavarez said, "I don't know if I hit him good or not. I just wish that would've never happened."
The Red Sox and Devil Rays, who play April 18 in Boston, have been involved in several brawls since 2000.
On Sept. 27, 2004, two players from each team were hit by pitches and players ran onto the field.
In August 2000, eight Devil Rays and no Red Sox were ejected when Tampa Bay's Gerald Williams charged Boston pitcher Pedro Martinez, who had hit him with a pitch.
Monday's brawl "had nothing to do with history," Tampa Bay manager Joe Maddon said. "That may require suspension, absolutely."
In other spring-training games:
Tigers 5, Astros 3
At Lakeland, Fla., Tigers manager Jim Leyland learned shortstop Carlos Guillen (lower back) could be ready to return to the lineup Wednesday. Outfielder Magglio Ordonez (hamstring), ace Kenny Rogers (fever), outfielder Craig Monroe (quadriceps) and shortstop Omar Infante (shoulder) are among those with aches and pains.
Twins 3, Blue Jays 2
At Fort Myers, Fla., Juan Castro made his first start for Minnesota since hurting his right wrist while playing for Mexico in the World Baseball Classic.
Marlins 5, Orioles 4
At Fort Lauderdale, Fla., Josh Willingham hit two homers and drove in three runs. All four of Willingham's homers have come against Baltimore.
Cardinals 7, Nationals 0
At Jupiter, Fla., Jason Marquis homered off Pedro Astacio for his first home run of the spring and allowed three hits in six scoreless innings.
Phillies 5, Indians 1
At Clearwater, Fla., Shane Victorino had three hits, including two doubles, drove in two runs and scored twice.
Dodgers 12, Mets 3
At Port St. Lucie, Fla., Brett Tomko gave up a solo homer to David Wright and hit a three-run shot off Steve Trachsel.
D'backs 8, Athletics 2
At Tucson, Ariz., Arizona's Miguel Batista allowed one run on three hits and struck out six in five innings.
White Sox 4, Cubs 4
At Mesa, Ariz., White Sox slugger Jim Thome hit two home runs, two singles and drove in three runs.
Mariners 10, Rangers 9
At Surprise, Ariz., Laynce Nix hit two homers, including a grand slam, and drove in seven runs for Texas.
Angels 15, Padres 2
At Peoria, Ariz., Garret Anderson led off the second inning with a home run and went 1-for-2 for Los Angeles.
Copyright 2018 The Associated Press. All rights reserved. This material may not be published, broadcast, rewritten or redistributed. We strive to uphold our values for every story published.