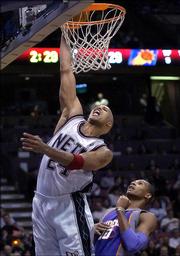 East Rutherford, N.J. — New Jersey's dominance of Phoenix was so stunning that Nets coach Lawrence Frank had trouble keeping track of it.
Nenad Krstic had 21 points and 10 rebounds, and the Nets won their ninth straight game, holding the Suns to their lowest point total of the season in a 110-72 rout Monday night.
"Midway through the third quarter, I was working on my math skills," Frank said. "I said to one of the assistants, 'We're up what?' I couldn't figure out what it was. No one could have expected this. I had to look up at the scoreboard a couple of times to make sure the math was right."
Vince Carter added 20 points for the Nets (41-28), who trimmed their magic number to clinch the Atlantic Division to five and the number to clinch an Eastern Conference playoff berth to two.
Heat 96, Pacers 91
Miami - Shaquille O'Neal had 23 points and 11 rebounds, Dwyane Wade survived a tough offensive night to score 22, and Miami rallied.
Jazz 104, Hornets 80
Salt Lake City - Deron Williams had 20 points and five assists, and Utah ended a two-game losing streak.
Wizards 116, Warriors 98
Oakland, Calif. - Gilbert Arenas scored 40, and Antawn Jamison added 31 as the former Warriors beat their old team.
Copyright 2018 The Associated Press. All rights reserved. This material may not be published, broadcast, rewritten or redistributed. We strive to uphold our values for every story published.