SCOTTSDALE, ARIZ. — Runelvys Hernandez, who had been expected to be the Kansas City Royals' No. 2 starter this season, will instead begin the year on the 15-day disabled list because of concerns about his weight and stamina.
Hernandez, who led the Royals with eight wins last year but didn't win a game after July 22, reported to spring training overweight and has pitched poorly in exhibition games. He will start the season on a rehab assignment at Triple-A Omaha.
"The bottom line is where he's at is not where he needs to be," general manager Allard Baird said Monday. "To say we're putting him on the DL because he is overweight, I think that is a little unfair. Does it factor in? Sure."
The Royals, who list Hernandez at 6-foot-2 and 250 pounds, won't say what he actually weighs - although observers' estimates were in the 280-pound range when he reported last month. The right-hander had lost about 10 pounds since workouts began, Baird said.
So far this spring, Hernandez has allowed nine runs - eight earned - and five home runs in 12 innings. He also walked 10 and hit a batter. In his last outing, he lasted 32â3 innings in a loss Saturday to a Chicago Cubs' split squad.
Hernandez would be dropped down to fifth in the rotation, manager Buddy Bell said Monday, a slot that's not needed until April 14.
"I'm real paranoid about starting him now and without him being in the best possible condition to pitch a full season," Bell said.
"That's my biggest concern. I don't know if he understands that or not. We're doing what is best for the team and what is best for him. We don't want to get two or three starts into the season and he wasn't ready.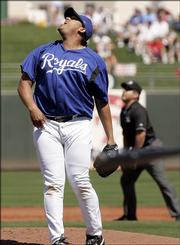 "We were hoping his stamina would be OK by the end of spring training, and maybe it is, maybe it isn't. We want to make sure. Runelvys feels like he is ready, but we want to be sure."
Hernandez remained at the team's spring training facility Monday in Surprise and did not travel to Scottsdale. An assistant to his agent, Scott Boras, said Boras might have a statement later Monday night.
Hernandez was 8-9 with a 4.53 earned-run average last season before slumping. He had a 9.45 ERA in the final two months of the season, losing his final five decisions. He also gained weight during the season and went on the 15-day disabled list because of a lower back strain Aug. 26.
"He hasn't looked like the Runelvys that we've seen at times," Bell said.
Scott Elarton pitches the opener on April 3 against Detroit, and Joe Mays will start the second game on April 5.
Jeremy Affeldt, the only left-hander in the rotation, will be the No. 3 starter, and Denny Bautista moves into the fourth slot.
"Runelvys, in my eyes, can be our number-one guy at some point," Bell said. "We've just got to get him in condition to where we think he's going to be able to hold up all year."
Hernandez will have to use his rehab assignment, however, to prove he deserves any spot in the rotation at all.
"That's entirely up to him on that," Bell said.
"He's got to throw better than he has, that's for sure. And he's got to have the ability to throw the same kind of pitches in the fifth that he does in the first. That's very important to us. He hasn't been able to do that just yet."
Copyright 2018 The Lawrence Journal-World. All rights reserved. This material may not be published, broadcast, rewritten or redistributed. We strive to uphold our values for every story published.