Kabul, Afghanistan — An Afghan man who faced the death penalty for converting from Islam to Christianity has appealed for asylum in another country, the United Nations said Monday after hundreds of Muslims marched against a court's decision to dismiss his case.
Afghan officials did not say whether Abdul Rahman had been released after the case against him was dismissed Sunday, but the U.N. statement came amid unconfirmed reports that he was being freed.
"We do understand that he will be released," State Department spokesman Sean McCormack said in Washington. "We're pleased by that."
Earlier Monday, hundreds of clerics, students and others chanting "Death to Christians!" marched through the northern city of Mazar-i-Sharif to protest the court's decision to toss out the case. Police in riot gear stood guard but did not intervene.
Several Muslim clerics have threatened to incite Afghans to kill Rahman if he is freed, saying that he is clearly guilty of apostasy and deserves to die.
"Mr. Rahman has asked for asylum outside Afghanistan," U.N. spokesman Adrian Edwards said. "We expect this will be provided by one of the countries interested in a peaceful solution to this case."
Rahman, 41, was arrested last month after police discovered him with a Bible. He was put on trial last week for converting 16 years ago while working as a medical aid worker for an international Christian group helping Afghan refugees in Pakistan and had faced the death penalty under Afghanistan's Islamic laws.
But the case set off an outcry in the United States and other nations that helped oust the hard-line Taliban regime in late 2001 and provide aid and military support for Afghan President Hamid Karzai. President Bush and others insisted Afghanistan protect personal beliefs.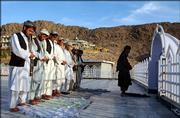 Karzai had to balance those concerns with the risk of offending religious sensibilities in Afghanistan.
While officials said the case against Rahman was dropped, prosecutors also said earlier Monday they were still examining whether he was mentally fit to stand trial.
Deputy Atty. Gen. Mohammed Eshak Aloko told The Associated Press that he may be sent overseas for psychological treatment if a medical examination that started Monday concludes that he is insane.
"Three Afghan doctors have worked on him today," Aloko said. "Sometimes he appears normal but at other times he looks very strange. His body twitches all the time."
He did not say when the evaluation would be completed.
"We will consider sending him for treatment outside the country if he needs it," Aloko said.
Copyright 2018 The Associated Press. All rights reserved. This material may not be published, broadcast, rewritten or redistributed. We strive to uphold our values for every story published.