SAN ANTONIO — Seimone Augustus gave her old neighborhood - and all the rest of Baton Rouge - another reason to celebrate.
Two days after her middle-school AAU teammate Glen "Big Baby" Davis and other longtime pals got the LSU men into the Final Four, Augustus did the same for the Lady Tigers in quite a memorable way.
She scored 17 of her 26 points in the second half, then drew the game-saving charge with 4.8 seconds left, sending LSU past Stanford, 62-59, Monday night in the finals of the San Antonio Regional.
"It's just a great opportunity in front of us, to take advantage of it and end on a high note," Augustus said. "That's the key, end with a win at the end of the season."
Augustus carried LSU (31-3) in the second half with the determination of someone not wanting her career to end. She hit several clutch baskets, many coming after landing hard on her back while grabbing a rebound. Then, with the Lady Tigers up 60-59 and Stanford star Candice Wiggins driving, she set her feet in the way and drew a charge.
Her reaction was priceless: Laying prone, she kicked her feet and shook her fists for several seconds while the Cardinal (26-8) begged for a blocking call.
"I mean, Seimone was planted," LSU coach Pokey Chatman said. "It was one of those things where it was do or die. ... I thought it was ironic that one of the best offensive players in the game made a defensive stop."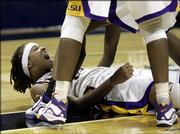 Stanford was especially upset because Wiggins passed the ball to Krista Rappahahn, who made a three-pointer that didn't count. Wiggins led Stanford with 23 points, including a three with 39 seconds left. The Cardinal made only two field goals in the last 6:30.
Maryland 75, Utah 65, OT
Albuquerque, N.M. - Kristi Toliver made just about everything she put up and Crystal Langhorne was as reliable as ever, sending Maryland back to the Final Four after a 17-year absence. Toliver set career highs with 28 points and six three-pointers, and Langhorne added 16 points and 10 rebounds, leading second-seeded Maryland (32-7).
Copyright 2018 The Associated Press. All rights reserved. This material may not be published, broadcast, rewritten or redistributed. We strive to uphold our values for every story published.