It would have been perfect.
Tina Lemon and Danny Stice planned a small wedding with family in the intimate setting of Kansas University's Danforth Chapel.
But one of the few things that can't be controlled for that special day - the weather - disrupted their plans.
The microburst storm that hit Lawrence on March 12 tore the roof off the old building, closing the chapel at least through April 10.
Lemon and Stice are one of several couples who had planned to marry there and had to change plans quickly.
"It's not really anybody's fault," said Lemon, who changed the location to the nearby Lawrence Evangelical Friends Church, 1601 N.H. "Nobody could control the weather."
Danforth Chapel, the site of about 100 weddings a year and a total of 350 annual events, was among the hardest-hit KU buildings. Crews have put on a temporary roof of tar paper to keep out moisture.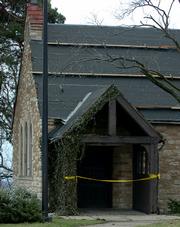 It will be at least four to six weeks before KU begins work on permanent repairs, said Jim Modig, KU director of design and construction management. He estimated a permanent roof would be completed by early July.
Becky Dunavin, senior administrative assistant with KU's Student Involvement and Leadership Center, has been charged with calling brides-to-be to deliver the bad news.
Dunavin said organizing events for the chapel is usually one of her favorite duties, but canceling weddings has not been fun. The prospect of calling the couples gave her hives, she said.
She had to call one couple on a Tuesday to tell them their plans for later in the week were out.
Danforth Chapel
"I was genuinely afraid to call this poor lady and say: 'You know that wedding you had planned for Friday? It's not going to happen,'" Dunavin said.
But that bride-to-be and others have taken the news graciously, she said. There haven't been any tears, at least not over the phone. And there haven't been any shouts of frustration, at least not over the phone.
"A lot of them were just more concerned about the chapel itself," Dunavin said. "Everybody's been really understanding."
Dunavin has called couples planning weddings through April. She has told those who have booked events after April 10 to strongly consider contingency plans. There is no assurance at this point that the chapel will be open for April weddings, she said.
Photo Gallery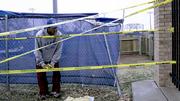 March 12 storms: KU Campus
For now, it's a waiting game - waiting to get official word to give to the couples, she said.
Other churches and local establishments have called the university to offer their sites for couples.
"I'm hoping beyond hope that by the end of this week or early next week, we'll have something," Dunavin said.
The small chapel, which holds about 90 people, was built in the 1940s and dedicated in 1946. It was built with the support of William H. Danforth, chairman of the Ralston Purina Co. Danforth brought the idea of a chapel to then-Chancellor Deane Malott. It evolved from a worship site for Christians to a nondenominational site.
Its popularity - as a place for organization meetings, memorial services, christenings and weddings - has grown consistently through the years, Dunavin said.
Share your memories
Have wedding photos from Danforth Chapel? Share them with us. E-mail the photos to editor@ljworld.com
Copyright 2018 The Lawrence Journal-World. All rights reserved. This material may not be published, broadcast, rewritten or redistributed. We strive to uphold our values for every story published.