In a town with too many leaking or missing roofs, a weekend forecast predicting more rain meant scores of workers and homeowners doing fast, makeshift repairs to ward off the possibility of more damage.
"We've done as well as we can do given the circumstances in such a short period of time," said Doug Riat, Kansas University's director of facilities operations, describing efforts to patch up campus buildings. "It won't be 100 percent, but there's no way you can piece in anything else."
KU workers and outside contractors have been working quickly to mitigate damage from Sunday's storm, which did an estimated $6 million in damage to the campus.
Riat said a main goal is to protect building contents from exposure to water. For example, he said storm damage at the Computer Service Facility left holes in the roof, exposing expensive and sensitive equipment to the elements.
Jordan Yochim, assistant director for administration at KU's Natural History Museum and Biodiversity Research Center, said he was glad the university was working quickly to keep the buildings from leaking.
"I'm fairly confident it's suitable protection for the short term," Yochim said. "We're always careful with our specimens, but we're taking extra measures just in case."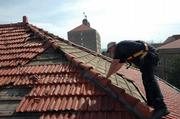 The upper floors of Dyche Hall are home to student and staff offices and the museum's diverse collection of bird and mammal specimens. Researchers at the museum have covered the specimens in plastic to ensure their safety.
Because the collection is mostly used for research, Yochim said they have blocked off that part of the museum from the general public for quite some time.
Bernie Kish, director of facilities at the Robinson Center, is no stranger to leaks with the more than 20-year-old roof covering the center's basketball court.
He said whenever there is a good amount of rainfall, he and others at the center get buckets ready to catch the leaks over the court. The already deteriorating roof was on the university's list of things to be replaced in the next couple of years.
"It wasn't a surprise that there was a lot of damage done," Kish said. "Yesterday you could actually see through the roof."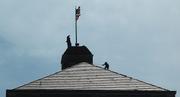 There was no rain or severe weather Wednesday, but winds made the repairs difficult.
"When the wind is blowing, anything temporary is going to be a couple of blocks away by the end of the day," Riat said.
Beyond the KU campus, efforts to prepare quickly for the next rain were evident across the city on Wednesday.
John Huff said he was relieved when he saw two roof repairmen put up ladders on the house he rents in East Lawrence, especially after he heard the weekend's weather report.
Storm assistance
Douglas County governments and certain nonprofit organizations may be eligible for federal assistance to repair damage to public infrastructure caused by Sunday's microburst. Gov. Kathleen Sebelius has requested a team to assess public infrastructure damage to determine eligibility in Douglas and Wyandotte counties. The team, made up of federal, state and local representatives, will begin preliminary damage assessments on March 23. Assessments have already determined that individuals and business owners are not eligible for federal assistance.
The National Weather Service said there was a 30 percent chance of rain Saturday and 50 percent on Sunday. Some rain fell Wednesday evening.
"There are places where you can look straight up and see right through into the air," Huff said of the old house at the corner of 13th and Connecticut streets.
The roofers weren't making final repairs. They were covering damaged areas with tarpaulin with plans to return sometime later, Huff said.
"There were air vents that were blown off the roof leaving holes the size of a basketball," Huff said.
National Weather Service forecasts Wednesday also were calling for a slight chance of snow on the weekend. But 6News weatherman Matt Sayers said he thought chances for rain or even snow were stronger early next week.
"I think the better chances will come Monday or even Tuesday," Sayers said.
Any significant rain could cause additional problems for property owners waiting on repairs for houses damaged by Sunday morning's microburst.
Local roofers are swamped with calls for work. Phone lines Wednesday afternoon were consistently busy, rang into answering machines or were answered by harried-sounding receptionists.
A woman who answered the phone at Garrison Roofing said more than 200 calls for work had been received since Sunday.
Copyright 2018 The Lawrence Journal-World. All rights reserved. This material may not be published, broadcast, rewritten or redistributed. We strive to uphold our values for every story published.