So what if Kansas University's women's basketball team lost 12 of its last 16 games. So what if the Jayhawks finished 10th in the Big 12 Conference.
Kansas has earned a postseason berth.
"We're thrilled with the opportunity," coach Bonnie Henrickson said Monday night, minutes after learning KU will play in the WNIT. "These kids are awfully, awfully happy."
Kansas (16-12) will meet Northern Iowa (19-9) at 7 p.m. Thursday in Allen Fieldhouse.
KU was able to overcome its low conference finish and a triple-digit RPI mainly because the Jayhawks won their first 12 games and because Texas Tech, one of the league teams that finished ahead of KU, declined a WNIT invitation after being snubbed by the NCAA.
Texas, another team that finished ahead of the Jayhawks in league standings, didn't qualify because the Longhorns' overall record (13-15) was under .500.
After the NCAA took the Big 12's top four teams - Oklahoma, Baylor, Texas A&M; and Missouri - the WNIT issued bids to Kansas State, Nebraska, Iowa State and Kansas.
Henrickson conceded that Tech's withdrawal "probably benefited" Kansas and Iowa State.
Another factor was the WNIT's expansion from 32 to 40 teams. The additional teams were put in a preliminary round. Kansas and Northern Iowa are two of those eight.
If Kansas wins Thursday night, the Jayhawks will also play host to a first-round game Saturday against Ole Miss, one of the 32 teams that drew a preliminary-round bye.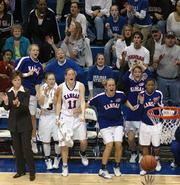 Kansas was able to secure one game at home and a potential second game in Allen Fieldhouse apparently because the athletic department waved its checkbook at the WNIT, an independent operation based in Fort Collins, Colo.
Henrickson mentioned the "commitment of the administration" for its willingness to help the Jayhawks end their six-year postseason drought.
Kansas hasn't played since bowing to Kansas State, 72-52, in a first-round game of the Big 12 Tournament a week ago today in Dallas. However, the Jayhawks have been practicing in anticipation of a possible WNIT bid.
"This gives us a chance to finish the season on a better note," Henrickson said. "We have a clean slate at 0-0."
The selection also means that seniors Crystal Kemp, Erica Hallman and Kaylee Brown - the Jayhawks' leading scorers - will have at least one more chance to play in Allen Fieldhouse.
"Our finish was disappointing," Henrickson said, "but I know those three are excited about the opportunity."
Northern Iowa finished third in the Missouri Valley Conference. In the NCAA's latest RPI rankings, Northern Iowa is 96 and Kansas 101.
KU's last postseason appearance was after the 1999-2000 season when the NCAA tapped the Jayhawks and sent them to Ruston, La., where they dropped a 71-69 double-overtime decision to Vanderbilt.
Copyright 2018 The Lawrence Journal-World. All rights reserved. This material may not be published, broadcast, rewritten or redistributed. We strive to uphold our values for every story published.