Beaumont, Texas — Donna Francis pressed a pile of FEMA paperwork and phone numbers to her chest as the minutes slipped away in the lobby of the Best Value Inn.
"Hopefully I can go pull a rabbit out of my hat," said Francis, a victim of Hurricane Rita, as she waited to make a plea to her Federal Emergency Management Agency caseworker an hour before six months of government-paid hotel rooms ended.
The single mother was among hurricane evacuees in nearly 3,000 hotel rooms nationwide Wednesday who were confronted with a choice they had long dreaded: either remain in their hotel and pay the bill with their own money or other federal assistance, or check out and find a new place to live.
Wednesday's deadline sparked protests in at least one city.
It was the last day FEMA directly paid hotel bills for many evacuees outside Louisiana and Mississippi. Storm victims in about 7,400 hotel rooms in those two hard-hit states have been granted another extension through at least March 15.
FEMA has spent half a billion dollars on hotel rooms in a program that has been extended numerous times since its original deadline last fall. At the program's peak, FEMA was paying for 85,000 rooms at one time.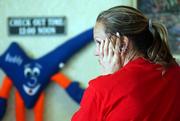 Not all evacuees had to turn in their hotel room keys. Those who qualified for individual assistance were free to use that money to stay in their hotel rooms, while FEMA granted some evacuees extensions under special circumstances.
In San Antonio, six families of Hurricane Katrina refugees protested outside their hotel, complaining that they would have to go to a homeless shelter.
Copyright 2018 The Associated Press. All rights reserved. This material may not be published, broadcast, rewritten or redistributed. We strive to uphold our values for every story published.