Michelle Bland, 30, grew up in the Lawrence area, graduated from Lawrence High School in 1994 and went on to get a degree in education from Principia College in Elsah, Ill.
Today she lives in Bethel, Alaska, teaching fourth-graders.
Why Alaska?
"I took the first teaching job I was offered," Michelle said.
Bethel is a transient community of 8,000. It's 440 miles west of Anchorage in an area that has few trees, lots of snow and minus 35 degree weather. There are few roads, and the only way to get there is by airplane or snowmobile. The school district is the size of Ohio. The old Soviet Union isn't far, just across the nearby Bering Sea.
But everybody has to be somewhere.
About two years ago, Michelle met former U.S. Marine Ben Bruce, 40. He's bearded, ruggedly handsome and formidable, like something out of a Jack London novel.
Actually he's more like "Kindergarten Cop." He was teaching pre-schoolers when Michelle spotted him out her classroom window.
They were soon introduced by a friend.
Audio Slideshow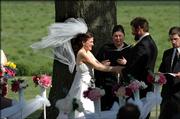 Couples - Bland and Bruce, May 28, 2006
"After I met Michelle, Ben says, "I was pretty much a goner."
On their first "date," Michelle drove a snowmobile behind Bruce's sled and the dog team he was training. They were far from town when they made camp "under the stars" in minus 25 degree weather.
After their no-frills trip, Ben knew he'd found a soulmate.
They'd dated for more than a year when Ben went looking for a ring. He found a wedding band at ID Variety, a store that sells parakeets, used clothing and a few rings.
Ben showed Michelle the ring in the Subway restaurant while they ate a sandwich.
"You like me," Michelle observed between bites. "You're going to marry me, aren't you?"
It was the first mention of marriage by either.
They were first married last December among Alaskan friends.
Michelle arrived by dogsled. "We had the wedding ceremony outside Bethel in a meadow with some trees," she said.
"It was beautiful," Ben recalled. "We roasted moose meat, baked potatoes. But in 10 degree temperatures, the champagne was more like snow cones ... but it was great."
Michelle and Ben Bruce in their own words.
The couple married again May 28 at the home of Michelle's parents, Joan and Milton Bland, in rural Eudora.
Michelle now teaches for half the school year. The other months are spent with Bruce in the wilderness, 80 miles and a five-hour snowmobile ride from Bethel. That's where Bruce works as a trapper.
They live in a tent with "a great view of the Sawtooth Mountains." There is no electricity. They carry water in 5-gallon buckets from a creek a hundred yards away. Michelle cooks on a wood-burning stove that also heats their tent.
Eighteen sled dogs keep them company and provide security.
They communicate with the outside world with a hand-held aviation radio. They call passing commercial airliner pilots, like Northwest Airlines, who in turn radio Bethel Airport, which then gives the message to a bush pilot who can fly to their area.
They also can get messages from KYUKss, a Bethel public-owned radio station.
"We're very remote," Bruce said.
"I don't regret it for a second ... the quality time, the peace and quiet and our lives are our own," Michelle added.
Copyright 2018 The Lawrence Journal-World. All rights reserved. This material may not be published, broadcast, rewritten or redistributed. We strive to uphold our values for every story published.