A freakishly powerful storm far off in the South Pacific propelled huge swells to the Americas, causing a surge of waves that smashed homes and beachfront businesses from Peru to Mexico, authorities said Tuesday.
High surf kicked up as far south as northern Chile and as far north as Southern California, but no deaths or serious injuries were reported as several hundred people were evacuated in at least eight countries.
The barrage began Sunday, and the waves were beginning to weaken Tuesday afternoon, meteorologists said.
"We expect them to gradually subside over the next 24 to 48 hours," said Hugh Cobb, at the National Hurricane Center in Miami.
The waves resulted from a particularly intense low pressure system several hundred miles off New Zealand that caused hurricane force winds and rare snowfall at sea level. Masses of water were shoved eastward, creating unusually big waves when the swells hit the Americas.
"The storm system that generated these waves was fairly extraordinary," Cobb said.
The waves were not like those in a tsunami, giant swells caused by seismic shifts along the ocean floor that can be much larger and faster moving.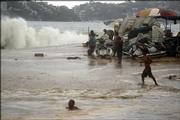 Copyright 2017 The Associated Press. All rights reserved. This material may not be published, broadcast, rewritten or redistributed. We strive to uphold our values for every story published.