Secretary of State Condoleezza Rice warned North Korea on Monday it will face consequences if it test-fires a missile thought to be powerful enough to reach the West Coast of the United States.
"It would be a very serious matter and, indeed, a provocative act should North Korea decide to launch that missile," Rice said amid indications that the North Koreans could launch an intercontinental ballistic missile at any moment.
The senior U.S. diplomat said the United States would talk to other nations about action should the North go ahead, and "I can assure everyone that it would be taken with utmost seriousness."
President Bush briefly discussed the missile test with Russian President Vladimir Putin during an 18-minute phone call the Russian official placed to the American president on Monday. The leaders plan to remain in touch on the missile issue, said Kate Starr, a spokeswoman for the National Security Council.
The United States, Japan, Australia, South Korea and other countries have urged North Korea to abandon any missile firing, but there was no sign of backing down. U.S. officials said Monday the missile was apparently fully assembled and fueled, giving the North a launch window of about a month.
Unlike other preparatory steps the United States has tracked, the fueling process is very difficult to reverse, and most likely means the test will go ahead, one senior administration official said.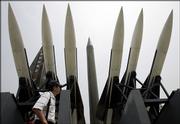 The precise timing is unclear, the official said.
At U.N. headquarters in New York, U.S. Ambassador John Bolton said he was holding preliminary consultations with Security Council members on possible action if North Korea fires the missile, thought to be a three-stage Taepodong-2 with a non-nuclear payload.
The U.S. ambassador to Japan, Thomas Schieffer, said economic sanctions were an option. "I think sanctions would have to be considered, but I wouldn't want to describe what actions we might take," Schieffer said through a U.S. Embassy official.
U.S. officials have said the 116-foot-long missile has a firing range of 9,300 miles and could reach as far as the U.S. West Coast. Most analysts, however, say North Korea is still a long way from perfecting technology that would make the missile accurate and capable of carrying a nuclear payload.
Copyright 2018 The Associated Press. All rights reserved. This material may not be published, broadcast, rewritten or redistributed. We strive to uphold our values for every story published.