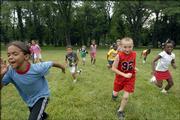 It's no contest.
Seven-year-old Erin Scherl likes her backyard in her neighborhood south and west of Sixth Street and Monterey Way. But it can't compete with the brightly colored slides and swings of Dad Perry Park near 13th Street and Monterey Way.
But yet, the backyard wins out many times anyway.
"It's kind of too far of a walk for little legs," said her mother, Ruthann Reigle. "Actually, I blame it on them, but it is kind of too far of a walk for me."
More about parks
How far are you from a park?
See how far you live from a Lawrence park, and see locations of all parks in Lawrence. View map »
City Commissioner Boog Highberger would like to make sure future Lawrence neighborhoods don't leave residents feeling the same way. At tonight's meeting, Highberger will lobby city commissioners to change future park standards to require that at least a small park and playground be within about a quarter mile of every new home. Currently, the city tries to meet a standard of each home being within a half-mile radius of a neighborhood park.
"If we are going to say that we have walkable neighborhoods, having a park within walking distance to every person is crucial," Highberger said. "And a half-mile is not a walking distance for most people."
But Highberger may have a tough time convincing other commissioners. The Lawrence-Douglas County Planning Commission voted against the proposed changes, in part because leaders of the city's Parks and Recreation Department expressed concerns about how much it would cost to acquire and maintain the new parks.
"The realism of being able to meet that kind of standard is a concern," said Fred DeVictor, director of Parks and Recreation.
For example, he said using a quarter-mile standard would require the city to add about 140 new parks - each about 3 acres in size - during the next 20 to 30 years as the city expands its borders. That compares with about 50 parks - of about 8 acres each - during the same time period, if the current half-mile standard is kept.
Once fully built, Parks and Recreation staff members estimated a quarter-mile standard would cost the city $1 million more per year in maintenance costs, in today's dollars.
Acquiring the land also would be expensive. DeVictor said the department has had to pay $30,000 an acre for some park ground. To meet the quarter-mile standard within the existing city limits would require even greater land costs, but Highberger is not proposing that be done.
Highberger said many of the costs sounded worse than they were. For example, the maintenance increase would happen over at least a 30-year period, and the city is looking at impact fees as a possible way to help fund new park land acquisition. And Highberger said people also should factor in the benefits that would come from increased park usage.
"Parks add enormously to our quality of life," Highberger said. "It is good for your health. And we need to get away from designing our cities so that every activity we do needs a car."
DeVictor said his department would consider smaller mini-parks for new neighborhoods designed to be highly walkable residential neighborhoods. He also said his department tried to promote walkability by expanding the city's trail system and using trails to connect parks and neighborhoods.
Commissioners meet at 6:35 p.m. tonight at City Hall, Sixth and Massachusetts streets.
-->
Copyright 2018 The Lawrence Journal-World. All rights reserved. This material may not be published, broadcast, rewritten or redistributed. We strive to uphold our values for every story published.