Kansas University's Wescoe Hall is guilty of being ugly, but could it be cancerous?
"A lot of people are quite alarmed," Dorice Elliott, KU associate professor of English and department chair, said. "There are people who've begun to spend less time in the building."
Following reports that at least five people who work in Wescoe have been diagnosed with brain tumors, KU has called on an epidemiologist to study whether the building is somehow hazardous to people's health.
"We don't expect to find a problem," Senior Vice Provost Kathleen McCluskey-Fawcett said. "We're erring on the side of caution because some of the residents of Wescoe are very concerned."
It's the latest accusation directed at the cast-concrete building long targeted for its lack of windows, maze-like hallways and overall gloominess.
"If the state needs a new prison, they've got one right there waiting," said Norman Saul, a KU history professor who has worked in the building since its opening in 1973.
John Neuberger, of the KU School of Medicine's preventive medicine and public health department, will lead what is expected to be a seven-month investigation into the building. The study will include air-quality tests and an epidemiological study of the building's occupants.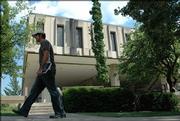 Neuberger on Tuesday declined to discuss the details of his study and said those would be covered at length in a meeting with concerned building workers set for 3 p.m. today in Wescoe Hall Classroom 3140. He said the study was worth conducting.
McCluskey-Fawcett said KU is negotiating for the cost of the study, which she expected could run anywhere in the range of $25,000 to $100,000.
Earlier worries
Wescoe, named after former KU Chancellor W. Clarke Wescoe, was built in 1973. Two buildings, the old Robinson Gymnasium and Haworth Hall, were razed to make way for the $7.8 million Wescoe.
Today about 400 faculty and staff work in the four-story building that includes classrooms, lecture halls, a food court, and numerous liberal arts departments, including history, philosophy, classics, French and Italian, and Spanish and Portuguese.
"It's never been a pleasant place to work," history professor John Sweets said.
Health concerns have arisen over the years.
Sweets recalled a flap at least a decade ago about Wescoe's water.
"They told us not to drink the water out of the fountains," he said, though he couldn't recall the details.
And the matter apparently never went away for some.
"Some of the old folks don't drink the water because they're worried there might be something in it," said Marjorie Swann, associate professor of English. "We hear a lot about this sort of 'sick building syndrome.'"
And there are worries about poor ventilation in the building.
"Some people joke that there hasn't been any fresh air in Wescoe since 1973," Swann said.
The recent concerns arose this spring when an English department faculty member was diagnosed with a brain tumor. Swann said there have been three cases of faculty members diagnosed with brain tumors in the last year. She said in two cases, the tumors are malignant. She said there also was a diagnosis four years ago and another eight years ago. Four of the cases involved people within the history department, and several people shared the same second-floor corridor.
Elliott, the English department chair, said those diagnosed generally were people who spent long hours in the building.
"I think it's worth checking out," Elliott said. "I also think there are a lot of ... rumors. It's hard to say whether they're founded or not. Wescoe has been subject to these kinds of rumors periodically since it was built."
Finding a cause
Theron Blinkenstaff, a consultant with Occupational and Environmental Medicine Consulting in Tennessee, said studies such as the one planned generally involve obtaining a rate of occurrence among the building's population and then comparing that rate with a reference population.
He said some situations that appear to be clusters of people with the same problem actually turn out not to be and it can be difficult to connect a series of illnesses to a particular problem in a facility.
Science has yet to unravel all the unanswered questions about the cause of brain tumors.
According to the Mayo Clinic's Web page on brain tumors, the lack of understanding about the condition makes it difficult to pinpoint risk factors.
The page says the condition appears to occur more frequently in people exposed to radiation or certain chemicals, such as those who work in oil refining, but a definite link hasn't been proven. Electromagnetic fields and cell phone use have been studied for a possible link, but there is no definitive evidence of a connection to either, the page said.
Mike Heideman, a spokesman for the Kansas Department of Health and Environment, said the department could not comment on the number of people reportedly diagnosed at KU.
"We don't wish to comment on an investigation that is ongoing - just don't want to prejudge things," he said. "Once KU completes that investigation, we'll be prepared to comment on the results."
Such cases are not unheard of. A Chronicle of Higher Education article about an Australian university has circulated through some offices at Wescoe, Elliott said.
According to the Chronicle, officials at RMIT University in Melbourne last month evacuated two floors in a main building after reports of several staff members diagnosed with brain tumors. An investigation is under way.
Swann said she believes KU should follow the Australian university's lead and evacuate faculty and staff during the investigation.
In the meantime, Swann isn't waiting for an evacuation. She has moved out of her office and only drops in when she needs to.
"In my own case, I'm completely changing my work habits and I'm going to stay out of my office."
Copyright 2018 The Lawrence Journal-World. All rights reserved. This material may not be published, broadcast, rewritten or redistributed. We strive to uphold our values for every story published.