Aubrey Maxwell doesn't want to be a politician. She just wants to write about them.
But her time here at the 64th installment of the Kansas Sunflower Girls State means the Augusta High School junior and school newspaper editor will have an opportunity to learn about the political process she one day hopes to cover.
"I want to know what it takes to make it out there," Maxwell said.
For Maxwell and the other 400-plus soon-to-be Kansas high school seniors, a week in Girls State will provide a whirlwind tour of different levels of politics - from the decisions of a city of less than 2,000 people to statewide elections and issues.
Chapters of the Kansas American Legion Auxiliary selected delegates from high schools across the state to come to the Kansas University campus to spend the week solving problems usually left up to officials and politicians.
To help better understand those issues, the girls will have the chance all week to meet with local and state officials, including Gov. Kathleen Sebelius, Judge G. Joseph Pierron from the Kansas Court of Appeals, state Rep. Barbara Ballard and Insurance Commissioner Sandy Praeger, among others.
And all the while, they must construct a state.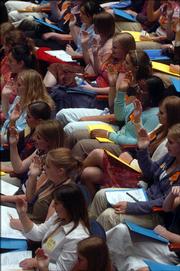 To build the mythical Sunflower Girls State, the students break off into 14 cities they invent - choosing the type of city government, electing officials and handling any city issues.
All of that work began Sunday afternoon, when the delegates pulled into Kansas University, where most of the week's events will take place.
"Right now, they're trying to get their cities incorporated," Girls State staffer Gwen Trost said.
After city-level elections are complete, the girls will move on to other levels and functions of government. School board will be next, followed by the multicity/county governments and, finally, statewide elections.
To be successful at Girls State, speakers said Sunday, delegates will have to be aggressive, steadfast and dedicated to a party and a cause, much like real politicians.
"The key to success this week is to become involved," Girls State director Claudia Satterlee said.
That means getting involved in all aspects of the week's events, Satterlee said, from joining a party and taking part in the political process, to making friends with those in their made-up cities, counties, school boards and judicial benches.
The problems Girls State citizens face will, organizers hope, shed light on a complicated political process - one that can have unintended consequences for the residents of a state, city or county.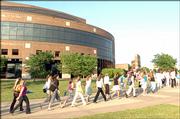 But the week's events also will show the girls that they can solve the problems of their communities and help improve society, organizers say.
Plus, speakers said they hoped that the delegates would learn participation outside of the fictional Girls State - participation in civic life and in their communities as a whole.
Satterlee said the problems the high schoolers will face this week are similar to the problems Kansas leaders face every day.
Learning how to tackle those issues, she said, will help the girls make their community a better place during their final year in high school and beyond.
"The future," Satterlee said, "is yours."
Copyright 2018 The Lawrence Journal-World. All rights reserved. This material may not be published, broadcast, rewritten or redistributed. We strive to uphold our values for every story published.