MALIBU, CALIF. — Barry Enright pitched 71â3 strong innings, Brett Hunter got out of a ninth-inning jam, and Pepperdine defeated Missouri, 3-2, in Friday's second game of the NCAA's Malibu Regional.
Enright (13-1) held the Tigers to one run, Derek Chambers' homer leading off the sixth. Enright scattered eight hits, walked one and struck out four.
Hunter went 12â3 innings and allowed a run in the ninth. The Waves' closer got Trevor Helms to ground out after a 13-pitch at-bat for the final out, stranding the potential tying run on base. The save was Hunter's 11th.
Missouri's Max Scherzer (7-2) allowed three runs on seven hits and struck out one in his seven innings.
The Waves got their runs on Chad Tracy's sacrifice fly in the sixth and RBIs by Denny Duron and Matt Aidem in the seventh. Duron also made a diving grab of Helms' grounder on the final play of the game.
J.C. Field's infield single in the ninth drove in the Tigers' final run.
Pepperdine (41-19) will face UCLA (33-23) today, while Missouri (31-26) will play UC Irvine (36-23) in an elimination game.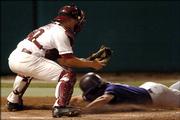 TCU 6, Oklahoma 5
Norman, Okla. - Bryan Kervin capped a three-run ninth-inning rally with an RBI single to lift TCU past Oklahoma.
Keith Conlon singled off Oklahoma starter Daniel McCutchen with one out to start the rally, then moved to second on a wild pitch. Corey Steglich drove in Conlon with a single to left and Ryan Pack's RBI double tied it at 5.
Oklahoma closer Will Savage then relieved McCutchen (8-8) and allowed Kervin's single that gave the Horned Frogs (39-22) their 11th straight victory.
Manhattan 4, Nebraska 1
Lincoln, Neb. - Chris Cody threw 142 pitches in his ninth complete game of the season, and Manhattan won in its first NCAA Tournament appearance since 1957.
Matt Rizzotti and John Fitzpatrick homered on consecutive pitches for the Jaspers (33-21), playing in the NCAA Tournament for the second time overall.
Texas 9, Texas-Arlington 1
Austin, Texas - Kenn Kasparek had a career-high seven strikeouts in 71â3 innings, the sophomore's longest-ever outing, to lead Texas past Texas-Arlington. Preston Clark had a two-run home run during a three-run fourth inning that gave the top-seeded Longhorns (41-19) a 5-1 lead.
Kasparek (5-2) threw 128 pitches, scattering eight hits and walking two.
Oklahoma State 4, Princeton 1
Fayetteville, Ark. - Matt Clarkson hit a two-run home run in the second inning to help Oklahoma State beat Princeton. Oklahoma State's Matt Gardner (7-3) struck out a career-high six and gave up seven hits in nine innings. Erik Stiller (4-4) took the loss.
Wichita State 2, Houston 1
Norman, Okla. - Aaron Shafer threw seven strong innings and set a Wichita State freshman record for wins. Shafer (11-3) allowed one run on six hits in seven innings and Conor Gillaspie drove in the winning run with a double in the seventh.
Baylor, Arizona State ppd
Houston - The first-round Houston Regional game between Baylor and Arizona State was postponed because of rain Friday night. The scoreless game will resume today with Baylor batting in the top of the second inning.
Copyright 2018 The Associated Press. All rights reserved. This material may not be published, broadcast, rewritten or redistributed. We strive to uphold our values for every story published.