Groton, Conn. — A Learjet registered to religious broadcaster Pat Robertson crashed in Long Island Sound while flying in heavy fog Friday, killing both pilots, authorities said. All three passengers escaped without serious injury.
Robertson was not aboard.
The twin-engine Learjet 35 went down a half-mile short of the runway at Groton-New London Airport. Authorities said the passengers were able to get out on their own and were pulled from the water and taken to the hospital with minor injuries.
Preliminary information showed that the plane may have hit an approach light mounted in a cove near the airport, said Christopher Cooper, a spokesman for the state Department of Transportation.
The plane was registered to Virginia-based Robertson Asset Management. The company is owned by Robertson and is separate from the Christian Broadcasting Network, spokeswoman Angell Vasko said.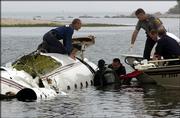 She said Robertson was not on the plane and rents it out because he uses it infrequently.
"We're still trying to figure out who was on the plane," she said. "It's not Dr. Robertson or (anyone) related to CBN or related to Dr. Robertson's individual businesses."
The company has a leasing agreement with International Jet Charter of Norfolk, Va., which chartered the plane Friday, Vasko said.
Mark Ousley, International Jet's sales and marketing director, declined to comment.
The bodies of the two victims were pulled from the water by the Coast Guard, Capt. Peter Boynton said.
Copyright 2017 The Associated Press. All rights reserved. This material may not be published, broadcast, rewritten or redistributed. We strive to uphold our values for every story published.