St. Louis — The governor sent in the National Guard to evacuate people from their sweltering homes Thursday after storms knocked out power to more than half a million St. Louis-area households and businesses in the middle of a deadly heat wave.
With forecasters expecting another day of 100-degree heat, utility crews raced to restore electricity and Gov. Matt Blunt declared a state of emergency, granting the mayor's request to send in nearly 300 troops to take people to air-conditioned public buildings and to clear debris.
"We can't overemphasize the danger of this heat," Mayor Francis Slay said. "The longer the heat goes on and the power is out, the riskier it is."
The heat has contributed to at least 20 deaths across the country in the last week.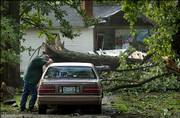 Police used public-address speakers from their squad cars to announce locations of the community centers and other places designated as cooling centers. Volunteers went door to door, checking on people with no power to run fans or air conditioners.
Utility workers urged customers to find a cool place to stay. They warned that power could be out in some areas for three to five days.
The day's high was 97 degrees, but the humidity made it feel like 111. The region could get some relief today, when the high was expected to drop to the mid-80s.
The storms tore through the city a day earlier, ripping off a section of airport roof and dumping it on a highway. Windows were blown out of a hotel restaurant and a press box at baseball's Busch Stadium. At least three buildings collapsed, and more than 30 people were injured.
"I've never seen this many people without power, this much debris, buildings collapsed, lines down," the mayor said.
By Thursday evening, power had been restored to 160,000 customers, but new reports of outages kept coming in.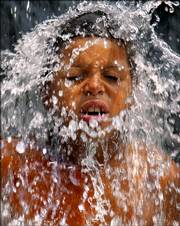 St. Louis-based AmerenUE, the utility serving Missouri and Illinois, said it would restore power to hospitals, nursing homes, water-treatment plants and other "critical facilities" first.
"If you're out of power, go to family, a friend or a cooling shelter," Vice President Richard Mark said. "Take whatever means necessary, but stay out of your home."
City Health Director William Kincaid cautioned that the city's older housing, much of it made of red brick, could heat up like furnaces in the summer heat.
"It could be a very dangerous day," Police Chief Joe Mokwa said.
The death toll from the heat wave that has gripped much of the country for the past week rose to at least 20 people in seven states. Four more people died in the Chicago area, bringing the total number there to seven, officials said. Two have died in the Philadelphia area, two in Oklahoma City, two in Arkansas, two in Indiana and one each in South Dakota and Tennessee.
Copyright 2018 The Associated Press. All rights reserved. This material may not be published, broadcast, rewritten or redistributed. We strive to uphold our values for every story published.