Chicago — Temperatures soared into the upper 90s and higher Sunday from coast to coast, bringing out heat warnings, wilting athletes and driving others into the shade.
The choking heat was expected to continue for the next few days, and the hot air was moving toward the East Coast, meteorologists said.
Illinois Gov. Rod Blagojevich said Sunday the state would make more than 130 office buildings available as cooling centers beginning today. Minnesota Gov. Tim Pawlenty had ordered the National Guard out to help firefighters as temperatures even in the normally cool northern part of the state pushed 100 degrees amid very dry conditions.
The National Weather Service issued excessive heat warnings for Las Vegas, Chicago, St. Louis, Philadelphia, Tulsa, Okla., and parts of New Jersey, where thermometers made it into the 90s Sunday and were expected to reach 100 degrees today.
"I could use a pool out here," Doreen Venick, 36, said Sunday as she took shelter in the shade of a small tree with her two children and her sister at a children's festival in Brick, N.J.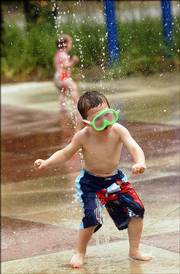 Officials in Chicago, where a 1995 heat wave killed 700 people, opened 24-hour cooling centers and pleaded with people to check on elderly neighbors. No heat-related deaths were reported in the city by Sunday afternoon as temperatures approached 100 in parts of the state.
Organizers of Gay Games VII, a sporting event that has drawn about 12,000 gay and lesbian athletes to Chicago, said outdoor events were going ahead as planned with hydration stations, tents and medical teams. Two triathletes were treated for heat-related illnesses.
Chicago hit 94 by 3 p.m., but it didn't bother Frank Lee of Manoa, Hawaii, who was competing in the event's tennis matches and planned to drink plenty of water and eat bananas.
"Oh, I love it balmy," Lee said. "But maybe it's a little too hot."
Midwest heat pump
A large high pressure area centered over much of the mountain states and extending into the Midwest was pumping hot air from Mexico across the desert Southwest and into the Midwest, said Rob Handel, a weather service meteorologist in Chicago.
Even the Colorado mountain town of Frazier, which sits at 8,550 feet and likes to claim that it is the nation's ice box, was in the upper 80s during the weekend.
"It's not supposed to be hot like this. Lately there have been evenings when you could sit outside at 10 p.m. without a coat. All my life I couldn't do that," said Connie Clayton, 58, a lifelong resident of Frazier.
The mile-high city of Denver had two straight days of record highs, hitting 103 on Sunday and 101 Saturday.
South Dakota posted some of the nation's highest temperatures with a reading Saturday of 115 at Pierre, the state capital, and an unofficial report of 120 outside the town of Usta in the state's northwest corner.
The mercury again topped 100 degrees Sunday across much of South Dakota, and in North Dakota, the temperature hit 106 degrees in Bismarck and 100 in Dickinson.
Several people were treated for heat-related illnesses Saturday at the St. Vincent Medical Center in Toledo, said Dr. Greg Hymel, an emergency room physician. The National Weather Service issued a heat advisory for the area Sunday, with temperatures reaching 91.
Officials with Middletown City Schools, halfway between Cincinnati and Dayton, Ohio, canceled the last week of elementary classes for the summer because of the heat. The two buildings where those classes are held lack air conditioning, district spokeswoman Debbie Alberico said.
Western readings
In Arizona, Sunday's high was 109, not enough to rate an extreme heat advisory in the desert metropolis.
California joined in the heat wave, with temperatures forecast to rise above 100 degrees today from the Mexican border to as far north as Redding and near the coast. State highs are expected to be 115 degrees near Barstow and 112 near Parkfield, said meteorologist Will Pi.
Power grid managers asked California residents to conserve electricity, predicting demand will spike for air conditioners.
Copyright 2018 The Associated Press. All rights reserved. This material may not be published, broadcast, rewritten or redistributed. We strive to uphold our values for every story published.