Kinshasa, Congo — Congo's least likely presidential candidate says it's time for Africa to let go of its gun-toting dictators and elect people who can think.
Dr. Oscar Kashala, a Harvard-educated cancer researcher and political novice, has left his laboratory in Cambridge, Mass., to hit a rocky campaign trail as his homeland emerges from what has been called "Africa's world war."
At a weekend rally, Kashala belatedly kicked off his campaign for Congo's July 30 presidential and legislative elections, despite bloody clashes with political opponents, government harassment and threats to companies that work with him.
"He is a son of Congo," thousands of supporters sang with gusto at the rally. "He never killed; he never looted; his hands are clean."
Kashala brushes aside criticism that he has not lived in the country he would govern for half his life. The hefty 51-year-old is counting on his frequent trips home since he moved to the United States in 1987, his history as a student activist and his many good works, building laboratories, getting donations for medical equipment and training doctors in the nation once known as Zaire.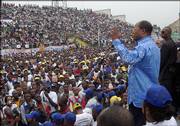 He says Africa's renaissance must be led by people like him and fellow Harvard alum Ellen Sirleaf Johnson, the new president of Liberia, not the gun-toting guerrillas and socialist ideologues who fought for the continent's liberation from colonizers and dictators.
"The skills you need to do that (fight) are a very different skill set from what you need once you become free and need to develop," Kashala said Saturday night in an interview with The Associated Press.
The rally earlier in the day drew more than 15,000 by a reporter's estimate - and attracted more people than a nearby meeting for Joseph Kabila, Congo's rebel leader who became president of a multiparty, interim government under a peace pact that ended a five-year war in 2002.
Kabila, Kashala and 31 other candidates are running for president in the country's first such election in 45 years. If none wins an outright majority, a second round for the two front-runners was to be held within weeks.
"There are going to be surprises," Kashala said. "I think he (Kabila) never thought there would be a run-off election."
Kabila took charge after his father, Laurent Kabila, was assassinated by disgruntled bodyguards in 2001. The elder Kabila led a popular rebellion to oust Mobutu Sese Seko, who had ruled since the assassination of the country's only freely elected leader, Patrice Lumumba, a year after independence from Belgium in 1960.
The rebellion against Mobutu ballooned into a civil war that then drew eight countries into a regional battle to control Congo's natural resources. Some 17,500 U.N. peacekeeping troops are overseeing the elections this month even as they battle restive militias in eastern Congo.
Aid groups estimate violence has killed some 4 million Congolese since 1998, mostly through strife-related disease or hunger. Suffering from extreme privation, an estimated 1,000 Congolese still die needless deaths each day.
Copyright 2018 The Associated Press. All rights reserved. This material may not be published, broadcast, rewritten or redistributed. We strive to uphold our values for every story published.