Halfway through the play it's clear the butler didn't do it, but that's just about all we're certain of until the final moments of Agatha Christie's "And Then There Were None," presented by University Theatre. The play, adapted by the "Queen of Crime" herself, premiered in London four years after the novel was released and has since been made into three films. Sixty years on, this quintessential whodunit continues to illuminate issues of class and justice as 10 characters from diverse levels of society are forced to pay for their equally heinous crimes.
The action unfolds when eight guests and two servants arrive at a remote, posh island estate only to find themselves mysteriously without a host. After an unseen voice blasts through the living room to accuse each of them of murder, an unknown executioner begins to meet out justice, one by one. With each death, a figurine from the mantle piece disappears - seemingly right before our eyes.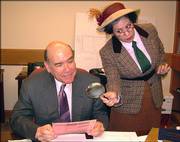 Rogue justice is swift for all, regardless of age, gender or stature. Director John Gronbeck-Tedesco, associate professor of theater and film and artistic director of the University Theatre, drew upon accents to identify class differences.
"We use three different British accents in order to make the class issue very real for the actors and get it into their bodies," he explained. "Blore, for example, starts out with a rather lame South African accent and moves into cockney once he's discovered." In a similar vein, the butler and his wife "have an official, professional accent in front of the guests, but when the pressure is on it starts to head up a little north and comes out almost Irish."
Christie injected more humor into the stage version of this work than appears in the novel, but she retained elements of frenzied nerves and hysteria-invoking fear that did not always permeate this production. The cast of 10 did not seem to agree on an overall dynamic level, which, in spite of skillful performances, created inconsistencies that at times detracted from the cohesiveness of the play.
Showtimes
What: "And Then There Were None" and "Something's Afoot," presented in repertory by University Theatre When: Performances of "And Then There Were None" are at 7:30 p.m. Tuesday, Thursday and Saturday; Something's Afoot" plays at 7:30 p.m. Wednesday and Friday and 5 p.m. Sunday Where: Crafton-Preyer Theatre, Murphy Hall, KU Tickets: "And Then There Were None," $12 for adults, $10 for students and $11 for seniors; "Something's Afoot," $15 for adults, $10 for students and $14 for seniors, 864-3982.
While some toned down the melodrama and saved their energy for a few select outbursts, others such as Erik LaPointe played the mindless and obnoxious Marston with full-out boisterousness and Courtney Schweitzer handled the stiff, religious oddball Emily Brent with a sharp sense of comedy and timing. Alicia Gian was a strong and thoughtful Dr. Armstrong - originally scripted as a man's role but working perfectly here.
Jeremy D. Riggs was a standout as the blustering copper William Blore. His fully developed gestures, mastery with accents and other careful subtleties all combined to infuse his part with riveting stylistic intensity.
Even though all three acts are limited to one set, Del Unruh's sumptuous scenic design evokes luxurious spaciousness on a grand scale that stays fresh and airy throughout, and lighting and sound from Mark Reaney artfully conjure up sea and storms.
"And Then There Were None" is a fast-paced show filled with delicious mystery devices that keep the audience on its toes, not the least of which is the magical disappearances of those infernal statuettes. If anyone figures out how they do it, please let this writer know.
Copyright 2018 The Lawrence Journal-World. All rights reserved. This material may not be published, broadcast, rewritten or redistributed. We strive to uphold our values for every story published.