Houston — All their assigned duties were completed and final precautionary tests had turned up no problems Sunday, leaving weather the only question facing the astronauts on the space shuttle Discovery as they looked forward to a return to Earth.
Mission Control on Sunday gave the shuttle crew permission to try for a landing today at the Kennedy Space Center in Florida, clearing all lingering technical questions on the shuttle heat shield and the system that provides hydraulic power for landing.
"We feel very confident that Discovery is safe to come home," landing director Steve Stich said in a news conference Sunday. Re-entry is one of the two most dangerous parts of a shuttle flight, along with the launch. A damaged heat shield caused Columbia to disintegrate during re-entry in 2003.
The somewhat weary Discovery crew members were looking forward to returning to their families today, Stich told The Associated Press.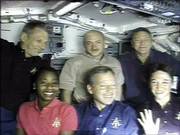 "We're getting ready to come home and we're just about there," Discovery commander Steve Lindsey told NBC News on Sunday.
Lindsey said his crew members accomplished every one of their preflight goals and did a little extra.
"I hope our legacy was that we closed out the return-to-flight test portion of the program following the Columbia accident and we set the stage for space station assembly to continue," he said Sunday. "Those were our two primary goals and I think we achieved those goals."
NASA has only one worry now: the weather.
The concern involved a patch of rain expected to drift toward the Kennedy Space Center from the north today. The question was whether it would affect either of the two possible landing times: 8:14 a.m. CDT and 9:50 a.m. CDT.
If the weather prevents a landing today in Florida, Stich said, he will try to bring the shuttle home on Tuesday at Kennedy or the backup site at Edwards Air Force Base in California.
Copyright 2017 The Associated Press. All rights reserved. This material may not be published, broadcast, rewritten or redistributed. We strive to uphold our values for every story published.