Mexico City — Leftist presidential candidate Andres Manuel Lopez Obrador told a vast crowd of supporters Sunday to wage a campaign of "civil resistance" to push for a manual recount of the election that he claims his conservative opponent won by fraud.
Lopez Obrador did not say what the campaign should entail, but the term "civil resistance" in Mexico often has meant protest camps and street blockades.
A crowd of more than 300,000 jammed the capital's central plaza, spilling down the city's main avenue for at least 1.5 miles and chanting "Vote by vote!" - the slogan of the recount campaign.
A recount is needed "for the economic, political and financial stability of the country," a stern-faced Lopez Obrador said, casting the coming days as "decisive days, days in which all will be tested."
"To defend democracy, we are going to be beginning peaceful civil resistance," he said.
The pro-Lopez Obrador city government estimated the crowd, packing the plaza for the second weekend in a row, at 1.1 million, although it appeared much smaller.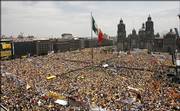 Felipe Calderon of President Vicente Fox's conservative National Action Party led the July 2 election by about 244,000 votes - roughly 0.6 percent - in official returns. By law, he cannot be declared president-elect until the nation's electoral court rules on challenges to the election.
The court has until Aug. 31 to rule on appeals and until Sept. 6 to name a winner.
Recounts usually rely on election night tallies from each polling place, and Calderon says there is no legal basis for a complete recount. He is building a transition team and planning a nationwide victory tour.
Lopez Obrador's party has issued an 836-page appeal to the electoral court, alleging ballot stuffing, illicit government and corporate help for Calderon and other irregularities. The National Action Party has filed its own challenges, seeking to stretch Calderon's advantage.
Monitors from the European Union have said they found no irregularities in the count.
Lopez Obrador has promised to keep convening massive marches until there is a vote-by-vote tally.
He said Sunday that "a civic committee would be set up to determine what actions would be taken." He also has called on people to set up camps outside regional electoral offices and use video cameras to keep an eye on officials.
Juan Luis Hidalgo, a 61-year-old retired Mexico City school teacher, said "civil resistance" would "certainly mean demonstrations and taking over plazas."
Some marchers called for boycotts of American products, claiming U.S. multinationals illegally helped finance Calderon's campaign.
Lopez Obrador adviser Manuel Camacho said the country might be ungovernable if the Federal Electoral Tribunal doesn't order a total recount.
"We could be here six more years," said Xochitl Luna, a 43-year-old unemployed secretary, referring to the length of Mexico's presidential term.
Support for the former mayor has reached cult-like proportions in much of the capital, with devoted followers lighting votive candles outside his campaign headquarters to keep hope of his presidency alive.
"He is the most marvelous man in the world," said Eugenia Leal, a 70-year-old retired school teacher who collects a pension thanks to a city program instituted by Lopez Obrador. "I'm willing to follow him from here to the death, or wherever he orders."
Copyright 2018 The Associated Press. All rights reserved. This material may not be published, broadcast, rewritten or redistributed. We strive to uphold our values for every story published.