Each month, Crime Stoppers of Lawrence and Douglas County fields between 10 and 15 calls.
"That's OK, it's not bad," said Undersheriff Kenny Massey. "But we'd like to see it double."
Massey and Heather Bunker, president of the Crime Stoppers board of directors, last week launched an informal campaign aimed at generating more calls - calls that will help police catch more criminals.
"We need more people to serve on the board, and we need to make the community more aware of what we do," Bunker said.
The board oversees the Crime Stoppers telephone line - 843-TIPS (8477) - and the distribution of cash rewards for information resulting in the arrest of a felon.
"We pay up to $1,000," Massey said.
Most payments, he said, range from $100 to $300. So far, the most paid for a tip has been $800.
"The amounts are decided on a case-by-case basis," Massey said. "Law enforcement presents the facts in a case and makes a recommendation. The board decides whether to go with that recommendation or come up with something else."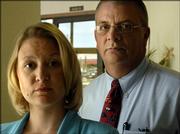 Law enforcement personnel are not allowed to be on the board. Massey and Lawrence Police Sgt. Richard Nickell serve as non-voting liaisons.
There are two common misconceptions of Crime Stoppers, Massey said:
¢ "To get an award, a tip does not have to result in a conviction," Massey said. "It only has to lead to an arrest - a felony arrest, not a misdemeanor arrest."
¢ "We do not have Caller ID," he said.
Massey said Crime Stoppers calls go to a telephone at the Law Enforcement Center downtown where they're automatically transferred to a cell phone he carries and answers "24 hours a day, seven days a week."
Neither phone, he said, records a caller's phone number.
"The number that comes up on my cell phone is the number on the telephone at the Law Enforcement Center," he said. "That's how I know it's a Crime Stoppers call, but that's all I know."
Most callers, he said, call to report either drug activity or the whereabouts of someone wanted on a misdemeanor warrant.
"I make sure the information gets passed on to where it needs to go," Massey said.
Callers interested in the reward money are given a one-letter-three-number code and the name of a local bank. After an award is approved, the caller is free to use the bank's drive-through window to pick it up.
"It's totally anonymous," Bunker said.
Crime Stoppers has not been controversy-free. Last year, a Lawrence woman claimed she had been unfairly denied a reward after providing information that led to an ex-boyfriend's arrest.
Massey said he didn't forward the woman's claim to the board because he had no recollection of the call. Also, records showed the arrest followed the woman's calling 911 to report domestic abuse.
The woman's ex-boyfriend was wanted for violating probation in a 1995 felony forgery case.
"You have to call Crime Stoppers to get a reward," Massey said, stressing that Crime Stoppers and 911 are not interchangeable.
"When faced with a emergency, call 911," he said. "If you see or know of something that's going on that doesn't warrant an immediate response, call Crime Stoppers."
Currently, the Crime Stoppers board has seven members.
"Our bylaws say we can have up to 21," Bunker said. "So we need more people."
Persons interested in serving on the board are asked to call the Crime Stoppers number, 843-TIPS.
"Kenny will take their names, and I'll send them a form to fill out," Bunker said. "We have to do a background check, too."
Applicants will be selected by a vote of the current board.
The board meets monthly. Its members - Bunker, Chuck Thompson, Pat Rapp, Jamie Sauer, Keri Cheek, Jennifer Swinford and Jennifer Elm - are volunteers.
"We'd like to hear from a lot of different people," Bunker said. "There's a lot we'd like to do."
Copyright 2018 The Lawrence Journal-World. All rights reserved. This material may not be published, broadcast, rewritten or redistributed. We strive to uphold our values for every story published.